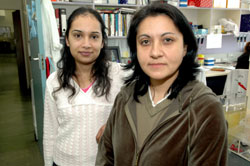 High-level awards: Drs Shaheen Mowla (left) and Zenda Woodman have bagged prestigious Sydney Brenner Fellowships.
Drs Zenda Woodman and Shaheen Mowla have scooped big-league Sydney Brenner Fellowships for their groundbreaking work in HIV and cancer research, respectively.
Mowla (human biology), identifies genes involved in cancer formation. Cancer among South Africans is increasing rapidly. She is investigating the Tbx3 protein implicated in the development of certain cancers of the lung, breast, liver and bladder. Tbx3 plays a role in triggering cell division.
'Results from these experiments will give us a clue as to how we can interfere with Tbx3 levels and function and therefore reveal ways of treating cancer," says Mowla.
Woodman (Institute of Infectious Diseases and Molecular Medicine) researches HIV inhibitor drugs and different approaches to vaccine development.
'One of the biggest problems in developing an HIV-1 vaccine is that the virus has the ability to change form rapidly after infection. Our research group identified a dual-infected individual that progressed to AIDS and died within 24 months after infection. We showed that at 19 months a recombined strain outgrew the other strains present.'
Woodman's study will analyse the recombined strain's genetic material to identify which gene caused the outgrowth - and to target this for vaccine design.
Brenner is a South African Nobel Prize Laureate (2002). The fellowships are co-awarded by the Academy of Science of South Africa and the US National Academy of Sciences, with additional funding from the Oppenheimer Memorial Trust.
---
This work is licensed under a Creative Commons Attribution-NoDerivatives 4.0 International License.
Please view the republishing articles page for more information.
---