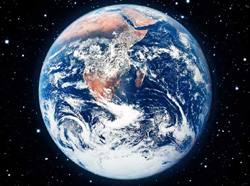 A 15-day strike at Tshwane University of Technology came to an end on 15 August after a settlement was reached between trade unions and the university. The settlement included an increase of 7,5% for most staff members. Payment has been backdated to 1 April. The parties also agreed on a general salary increase of 6,5% for 2008.
Tyamo and Anfani Okosun, aged 12 and nine respectively, who are studying at Purdue University in Indiana, US, addressed students at the University of KwaZulu-Natal in Durban recently. The bows are no ordinary children. Tyamo is a third-year mechanical engineering student and Anfani is a first-year university student who intend majoring in mechanical engineering. Their astonishing academic progress is the result of an alternative method of education, which began soon after their conception. Their father, Professor T Y Okosun, said that the couple had strapped the transmitter of a baby monitor to a tape recorder and the receiver to his pregnant wife's belly, through which the unborn children were stimulated with everything from physics and chemistry to biology, philosophy and general conversations at home.
If you are a student at a Ugandan tertiary institution, it is possible that at the end of the course, you will get a qualification nobody recognises. Of the 137 private tertiary institutions in the country, only 17 are licensed to operate, according to the National Council for Higher Education. The Council's executive director Professor AB Kasozi explained that all tertiary institutions, including those that existed before the council became operational in 2003, should have applied for fresh licenses.
More Middle Eastern students are enrolling in universities in Australia and New Zealand, in part because of difficulties in getting visas for the United States and Britain.
Medical students from the Uniformed Services University of the Health Sciences, US, stage mock battles to prepare for real wars. About 30 people pretending to be victims of a military attack are scattered through roughly half an acre of woods and are covered in fake blood and painted wounds to replicate real injuries. Medical students have to rush into this chaotic environment with limited help, a few bags of basic medical supplies, and weak headlamps to light their way.
Academics from around the world have protested to Germany's federal prosecutor about the arrest and detention of a Berlin sociologist who is accused of associating with a terrorist group - apparently on the basis of his academic work. Andrej Holm, from Berlin's Humboldt University, who specialises in urban gentrification, was arrested three weeks ago on suspicion of aiding a militant organisation suspected of carrying out more than 25 arson attacks in Berlin since 2001.
Sources: EducationGuardian.co.uk, Monitoring SA, Independent Online, AllAfrica.com, Chronicle of Higher Education.
---
This work is licensed under a Creative Commons Attribution-NoDerivatives 4.0 International License.
Please view the republishing articles page for more information.
---