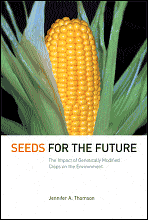 On the heels of her well-received Genes for Africa, comes Professor Jennifer Thomson's new release, Seeds for the Future: The impact of genetically modified crops published by Cornell University Press.
It's received thumbs up from reviewers, one saying the microbiologist had done an 'excellent job of addressing virtually all of the concerns of those who throw rocks at plants altered through modern genetic technology'.
She presents hard-to-ignore facts. Dealing with Bt crops (those that are genetically engineered to carry the gene from the soil bacterium Bacillus thuringiensis (Bt), which produces a protein toxic to certain Lepidopteran insects), Thomson offers some compelling data.
For example, South African small-scale cotton farmers growing Bt crops had a 60% yield increase and a 76% increase in profit during 1999 to 2000.
Thomson also previews some significant developments: plant-based vaccines (not edible vaccines, she emphasises), plants with beefed up nutritional value such as sorghum and cassava with iron vitamin A precursors, and plants that can be used to mop up environmental spills.
Reviewer Hannah Curtis of Florida University's Plant Molecular and Cellular Biology Programme makes a striking point: 'Given the breadth of this field and the speed at which it is moving, this book provides those of us working in particular aspects of the discipline with a good overview of areas we simply don't have time to follow.'
---
This work is licensed under a Creative Commons Attribution-NoDerivatives 4.0 International License.
Please view the republishing articles page for more information.
---