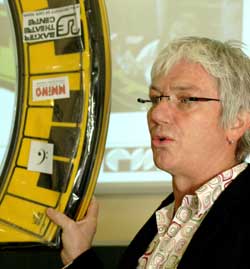 Like this: Peter Mahony shows a 'banana keyboard' that can be used to produce music.
Australian music education expert Peter Mahony has demonstrated how easy and quick music can be made using the latest computer technology.
Instead of spending tons of time and money in the studio, children and adults can now produce songs within minutes through the increasingly popular SoundHouse project, he said.
Mahony is the SoundHouse educator and project manager of the Powerhouse Museum's soundbyte.org project in Sydney. He held a series of talks at the Baxter Theatre Centre during the re-launch of the UCT SoundHouse project on July 24.
The computer-based education project first began in Australia in 1986, and uses a variety of fun-packed multimedia tools to teach music. The project is now available in six countries.
Baxter Theatre Centre is the only place in South Africa to boast a SoundHouse facility. It was established in 1998 - the first one outside Australia - and welcomes over 2 000 visitors annually.
The project encourages community participation and also caters for people with intellectual and physical disabilities. Over the past few years, the project has expanded to include the training of teachers across the Western Cape, as well as students completing their tertiary degrees at UCT.
The SoundHouse project is not a franchise and each project is different, explained Mahony. 'We are not like McDonald's where they all have the same colour and shape.'
---
This work is licensed under a Creative Commons Attribution-NoDerivatives 4.0 International License.
Please view the republishing articles page for more information.
---