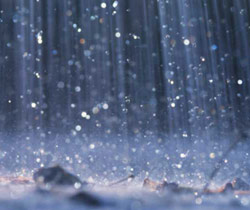 If recent conditions persuaded you to get your foul-weather gear out of mothballs, be warned - there's more heavy weather on the way.
And though spells of severe weather are readily attributed to human-induced global warming, in fact the South African region is very prone to strong natural variations in weather and climate patterns, says oceanographer Professor Chris Reason.
One of these natural variations is the Antarctic Oscillation, aka the Southern Annular Mode, which influences rainfall and temperature patterns over many parts of the Southern Hemisphere on time scales of weeks through to seasons - and longer.
Research by Reason, colleague Dr Mathieu Rouault and MSc student Ross Blamey has shown that the Antarctic Oscillation affects sea-ice in the Southern Ocean, winds and temperatures over much of the Southern Hemisphere and also South African rainfall.
"Most of the Western Cape's very wet winters in the past 50 years have occurred when the Antarctic Oscillation is in its negative pattern and, conversely, many of its dry winters are associated with a positive Antarctic Oscillation," says Reason.
Similar findings hold true for summer rainfall over the Eastern Cape. The work by Blamey on winter rainfall over the Western Cape won the best student poster award at last year's South African Society for Atmospheric Science annual conference and has recently been published in the international journal Climate Research.
---
This work is licensed under a Creative Commons Attribution-NoDerivatives 4.0 International License.
Please view the republishing articles page for more information.
---