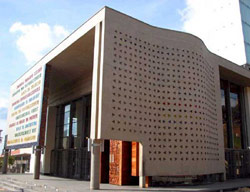 The UCT researchers chosen to work as researchers for Constitutional Court justices over the course of the next year are Alistair Price, Lyle Cupido, Rebecca van Es, David Simonsz, Claire Ballard (all LLB graduates), Lerato Lamola, Nick Friedman, Mieke Krynauw, Jeremy Raizon and Gabriella Razzano (all final-year LLB students).
Ten UCT law graduates and final-year students are among 27 local applicants handpicked by Constitutional Court justices to work as researchers in their offices.
This is the largest number of UCT-trained researchers to be appointed to the Constitutional Court. These contracts usually run between 12 and 18 months.
"It's a very prestigious position," said dean of law, Professor Hugh Corder, "offering candidates a wealth of experience, which is highly marketable afterwards. This is an important affirmation of the quality of our students - and the quality of skills and knowledge taught in the LLB programme."
Six of the 11 Constitutional Court justices will have UCT-trained researchers working for them. Initial selection also indicates that Chief Justice Pius Langa will have a full house of three UCT-trained candidates. Established in 1994 to protect the rights enshrined in the country's Constitution, the Constitutional Court's judgements are universally respected and referred to. The authorities cited in the footnotes alone offer legal scholars and practitioners a rich and singular source of comparative law.
The Court has handed down many landmark judgements, with a profound impact on South African law.
Researchers play a valuable role in supporting the justices. They spend hours researching in law libraries and electronic resources to find the legal authority needed to write the briefs that underpin these judgements.
---
This work is licensed under a Creative Commons Attribution-NoDerivatives 4.0 International License.
Please view the republishing articles page for more information.
---