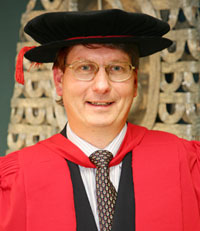 New theory: Professor Martin Schwellnus argues that fatigue is the root cause of muscular cramps.
Fatigue, not dehydration and electrolyte concentrations, as most people think, is the root cause of muscular cramps.
This is the controversial claim made by Professor Martin Schwellnus in his inaugural lecture, titled Wisdom from the African Pot: Contributions to the growth & development of Sports Medicine, delivered at the Student Learning Centre Lecture Theatre in the Anatomy Building on 27 June.
Schwellnus, a sports physician at the UCT/MRC Research Unit for Exercise Science and Sports Medicine (ESSM), found that dehydration and electrolyte concentrations had little bearing on who gets cramps or when.
His fatigue hypothesis suggests that cramping develops when the muscles grow tired, which is when they become more "excitable" and twitchy.
"Which is why cramping always comes at the end of an endurance event," he says. During his lecture, Schwellnus also outlined several other research areas in sports medicine, including studies on the benefits of stretching before exercise and methods for the prevention of injuries.
---
This work is licensed under a Creative Commons Attribution-NoDerivatives 4.0 International License.
Please view the republishing articles page for more information.
---