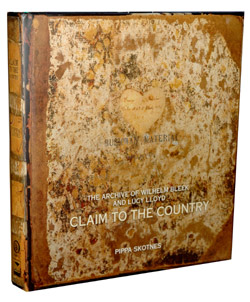 History treasure: Prof Pippa Skotnes in her Michaelis School of Fine Art studio, where she put in much of the work for her epic book.
'It's a book with a whole archive, an epic task,' Professor Pippa Skotnes said of her new work, Claim to the Country: The archive of Wilhelm Bleek and Lucy Lloyd, launched on 12 June.
Based on the mammoth 14 000-page Bleek/Lloyd archive, the book contains the extraordinary story of linguists Wilhelm Bleek and Lucy Lloyd, pioneering colonial scholars who recorded the ideas and oral histories of the /xam (San), the first people of southern Africa.
In the 1870s, faced with the cultural extinction and death of their language, several /xam men and women told their stories to Bleek and Lloyd in their suburban Mowbray home.
They were mostly prisoners of the British Crown, who were incarcerated at the Breakwater Convict Station after the Korana War of 1868, and later with !Kun speakers from northern Damaraland.
The Bleek Lloyd archive of drawings, notebooks, maps and photographs now reside at UCT, the South African Museum and the National Library of South Africa. This archive has been entered into Unesco's Memory of the World register. Skotnes has been working with this material for over 20 years.
The book also contains contextualising essays by leadings scholars such as Professor John Parkington (archaeology) and Associate Professor Nigel Penn (historical studies).
It comes with a DVD of the entire Bleek and Lloyd notebook collection.
---
This work is licensed under a Creative Commons Attribution-NoDerivatives 4.0 International License.
Please view the republishing articles page for more information.
---