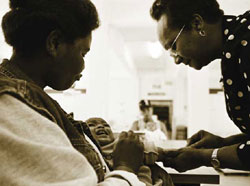 At the coalface: Three new grants are a shot in the arm for UCT researchers working on TB vaccines.
Thanks to some substantial new grants, UCT researchers are working on a stable of possible vaccines against tuberculosis
Within the last month, the South African Tuberculosis Vaccine Initiative (SATVI) at the Institute of Infectious Disease and Molecular Medicine has received three major grants for its research on tuberculosis vaccines.
The Aeras Global TB Vaccine Foundation and the Dutch biotechnology company Crucell have provided funds for SATVI to launch a phase-I clinical trial of an adenovirus-based tuberculosis vaccine. A similar study was launched in the US six months ago. The trial is being conducted at the SATVI field site in the Worcester region. Aeras has also invested around US$10 million (± R71.5 million) over the past six years to develop the core infrastructure at SATVI by sponsoring TB-vaccine related research.
In addition, SATVI, together with the University of Oxford and the University of Dakar, has received a €5million (± R48 million) contract, over five years, from the European Union's EuropeAID initiative to further research the development of another new TB vaccine. This recombinant vaccinia-based vaccine, MVA85A, was developed by Dr Helen McShane and colleagues at the University of Oxford. At least half of the money will be coming to SATVI for MVA85A clinical trials, immunology research and capacity building.
The MVA85A programme has substantial additional funding from the Wellcome Trust in the UK, partly through a strategic grant held by Oxford University and UCT for £1.5 million (± R21 million).
This work started in 2005, and SATVI is currently involved in a number of phase-2 studies at the Worcester field site.
SATVI is also one of two African partners in the TB Research Unit consortium, led by Dr Henry Boom at Case Western University in the US, which has received a US$27 million (± R193 million) contract over seven years from the National Institutes of Health in the US. Physicians and research scientists from SATVI, Uganda and 10 US research institutions will conduct studies on the genetics, immunology, microbiology and epidemiology of TB. Approximately US$4.5 million (± R32 million) is earmarked for research activities in Cape Town, which will be directed by UCT's Associate Professor Willem Hanekom, the local principal investigator.
"We are pleased to be playing such an important role in the global effort to develop new vaccines against TB," said SATVI leader Professor Greg Hussey. "In the process of conducting these trials, we are advancing the development of a new TB vaccine, expanding scientific capacity, and building awareness of the need for a new TB vaccine."
---
This work is licensed under a Creative Commons Attribution-NoDerivatives 4.0 International License.
Please view the republishing articles page for more information.
---