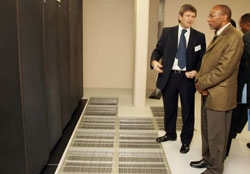 Super stuff: Llewelyn Jones of the Centre for High Performance Computing explains how 'The Machine' '" the compute nodes - works to the Minister of Science and Technology, Dr Mosibudi Mangena, at the launch of the centre in Rosebank.
South African researchers now have oodles of super-computing power at their fingertips, thanks to the new Centre for High Performance Computing (CHPC), launched on 22 May.
The centre, the first of its kind in South Africa, boasts a cluster of 160 compute nodes made up of 640 processors. With a peak performance of about 2.5 terraflops, capable of 2.5 million million mathematical operations per second, it equals the performance of a few thousand standard PCs.
The CHPC will add computing punch to the work of South African research communities, assembled into 10 special interest groups, with more in the pipeline. The CHPC's flagship projects include UCT's work on climate change under Professors Bruce Hewitson and Frank Shillington, as well as a cosmology project at the University of the North-West and work on high-energy lithium-ion batteries at the University of Limpopo.
Minister of Science and Technology, Mosibudi Mangena, described the centre as 'the most powerful computational platform dedicated to science in Africa'.
'The CHPC represents an important step in the modernisation of our South African science infrastructure,' he said.
The CHPC is a collaboration between the Department of Science and Technology (DST), hosts UCT and the Meraka Institute of the Council for Scientific and Industrial Research (CSIR). It is hosted on the CSIR campus in nearby Rosebank.
---
This work is licensed under a Creative Commons Attribution-NoDerivatives 4.0 International License.
Please view the republishing articles page for more information.
---