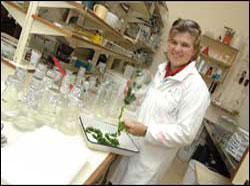 Crossing oceans: Deborah Robertson-Andersson has just come back from a memorable symposium in Japan where she impressed delegates with her doctoral research into abalone and seaweed.
Deborah Robertson-Andersson is making waves in the international aquaculture community with her research on seaweed.
For one thing, the doctoral researcher in the Department of Botany picked up second prize - the University of British Columbia award - in the student presentation category at the 19th International Seaweed Symposium in Kobe, Japan. Robertson-Andersson made it to the conference after landing the South African Network for Coastal and Oceanographic Research prestige student travel award.
Her research on "integrated aquaculture - it spans botany, oceanography, zoology, even economics - explores seaweed and abalone growth rates. Specifically, Robertson-Andersson is investigating the effects of DMSP, a chemical compound found in high quantities in seaweed, and its effect on the taste of abalone.
As part of her research, she also monitors the effects of recirculation on mobile macro fauna, sediments, bacteria, abalone health and diseases, water quality and tank fouling organisms. And aside from the purely scientific aspects of her research, she's extended her study to look at the socio-economic aspects of employment in the abalone industry and its effect on the seaweed, abalone canning and abalone-compound feed industries.
Her current work stems from her master's research in which she cultivated Ulva lactuca (commonly known as sea lettuce) in various types of aquaculture effluent, firstly as a feed source for abalone and secondly to biofilter the waste water before it was pumped back into the ocean. So successful was the study that Robertson-Andersson designed a pilot-scale integrated abalone and seaweed
recirculating system at the I&J abalone farm in Gansbaai.
The Gansbaai farm has since expanded, and a second platform now not just cultivates 120 tons of abalone per year, but also produces 105 tons of seaweed from an integrated abalone-seaweed system.
That I&J model drew praise at the Kobe conference from renowned Israeli aquaculture expert Amir Neori, who hailed it the best example of its kind in the world at the moment.
Delegates were also impressed with the bread-and-butter aspects of Robertson-Andersson's research - hers was the only presentation that included cost-benefit figures, as well as employment and skill-level figures, and the multiplier effects of the abalone industry.
---
This work is licensed under a Creative Commons Attribution-NoDerivatives 4.0 International License.
Please view the republishing articles page for more information.
---