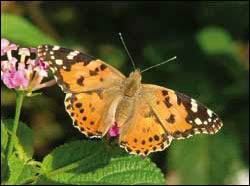 Pretty pollinators: (Top) Painted Lady (Vanessa cardui). (Middle) Citrus Swallowtail (Papilio demodocus demodocus). (Bottom) Gaudy Commodore (Precis octavia sesames).
A new project will map the distribution of butterfly species across Southern Africa and spotlight conservation challenges
First up were the birds, then frogs and reptiles, and now butterflies.
Over the next four years ecologists, lepidopterists - and Joe Public - will join forces to map the distribution and conservation priorities of the rich butterfly fauna found in South Africa, Lesotho and Swaziland.
The project was launched on 14 May under the umbrella of the Southern African Butterfly Conservation Assessment (SABCA).
Co-ordinators of the project, UCT's Avian Demography Unit (ADU), are old hands at running atlas projects like these. With bird and frog atlases wrapped up, the unit is currently running the Southern African Reptile Conservation Assessment.
For the butterfly atlas, the ADU has joined up with the South African National Biodiversity Institute (SANBI, a statutory body under the department of Environmental Affairs and Tourism) and the Lepidopterists' Society of Africa.
SANBI is responsible for fulfilling the new Biodiversity Act mandate to monitor and report on the state of South Africa's threatened biodiversity.
"It's a great privilege for UCT to be selected by government to host this project," said the ADU's project co-ordinator Silvia Mecenero. "It has huge national biodiversity and conservation science significance."
South Africa is home to 17% of Africa's 4 000 butterfly species (that's 671 species for us, grouped into five families) and of these, two species, possibly three, have become extinct. Another 38 species are named in the Red Data list, which catalogues the threat categories for respective species.
Butterflies are more than pretty faces. They provide an excellent indicator of the overall health of our ecosystems. And many are specialists at what they do.
For example, the Mountain Pride butterfly is the only known pollinator of several plants with red flowers; including the Pride of Table Mountain orchid (Disa uniflora).
Habitat destruction is the main cause of the species' decline. Lycaenids, a butterfly family endemic to South Africa, occur in small, limited areas because they are usually associated with specific host plants and host ants to complete their life cycle.
These characteristics mean Lycaenids are easily threatened by habitat destruction. Seven percent of Lycaenids are threatened with extinction and are listed in the Red Data Book.
The Western Cape is seen as a watch point. Here, rapid land development poses a significant threat. Of the 236 butterfly species in the province, more than half are Lycaenids, including the province's embattled Brenton Blue butterfly, of which only 100 remain.
"Unless South Africa pays careful attention to the conservation of our butterflies now, we could lose many more of these fascinating creatures and the important services they provide our ecosystems," said Mecenero.
Mecenero's chief interest is conservation ecology as well as long-term trends and patterns, which are often harbingers of climate change.
"This atlas project will produce distribution maps for each butterfly species, and if there is enough historical data it can be used to investigate long-term trends or changes in the distribution of some butterfly species. This is especially interesting from a climate change perspective."
Like the other atlases, the contributions of "citizen scientists" will be important; people who can photograph the life stages of butterflies and submit these to the project's virtual museum.
Unlike the reptile and frog projects, gathering data on butterflies should be a little easier. Butterflies, thankfully, are easier to spot and catch and generally easy to identify.
"An expert panel will identify the butterflies, and if the locality information is good and the identification possible, the information will be used in the SABCA database," Mecenero said.
She's also keen to know about private collections.
(For more information on SABCA and how to participate, visit the project website: SABCA)
---
This work is licensed under a Creative Commons Attribution-NoDerivatives 4.0 International License.
Please view the republishing articles page for more information.
---