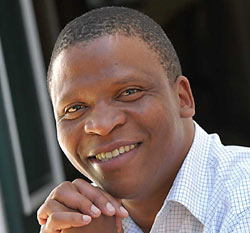 Wheeling and dealing: The GSB's Dr Mills Soko will serve aon the Warwick Commission, a group looking into the ebb and flow of international trade.
Dr Mills Soko, senior lecturer at the UCT Graduate School of Business (GSB), has taken a core role on the recently launched Warwick Commission, a high-level international body that will analyse the future of the multilateral trade system after the Doha Round.
The Doha Development Round is the current round of World Trade Organisation (WTO) negotiations, and aims to lower trade barriers around the world, permitting greater free trade between countries of varying prosperity.
According to the commission, the troubled Doha Round has brought into sharp focus concerns about the future of multilateral trade agreements. These concerns have included the continued viability of the WTO, fears of a drift towards protectionism, and the very future of globalisation itself.
The starting assumptions of the Warwick Commission are that the health of the multilateral trade regime depends on more than simply the outcome of the Doha Round; and that the health and vitality of a progressively multilateral and just global trade regime cannot be guaranteed by the current "soft", informal, negotiations.
According to Soko, the commission is a very timely initiative with the stuttering Doha Round a symptom that all is not well.
"The problem is more than what we see reported in the newspapers - there is a bigger issue of the very structure of the multilateral trade system," he says. "And it is dealing with these deeper structural issues, rather than focusing on the symptoms, which makes this commission a very ambitious and important project."
---
This work is licensed under a Creative Commons Attribution-NoDerivatives 4.0 International License.
Please view the republishing articles page for more information.
---