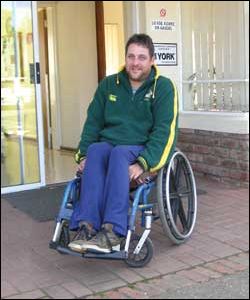 Wheelchair bound: Arthur Abrahamse is one of the former rugby players who are confined to the wheelchair after suffering a spinal cord injury.
Scores of sports people have heeded the UCT/MRC Research Unit for Exercise Science and Sports Medicine's (ESSM) call to help collect "an accurate" database of rugby-related spinal cord injuries in South Africa.
In collaboration with the Chris Burger/Petro Jackson Player's Fund, the research - the first of its kind in South Africa - seeks not only to get figures of the casualties but also to look for solutions and reduce or even prevent the injuries.
"It appears that no country has really resolved the problem of spinal cord injuries in rugby," said ESSM director, Professor Tim Noakes, who oversees the research. "South Africa is making a concerted effort to significantly reduce the number and even have zero spinal cord injuries."
Spinal cord injuries can be catastrophic, leaving many players dead or paralysed.
Dr Catherine Draper, research co-ordinator, said they have identified that 70 of the over 200 casualties since 1980 have died.
So far about 115 players have signed up to participate in the research.
A rugby Safety Indaba held in Cape Town recently concluded that existing data on the serious spinal cord injuries in the sport were incomplete due to an inadequate injury reporting system. Further research was required to ensure the accuracy and integrity of the data.
Schools, clubs, provinces, coaches, referees, health facilities and medical personnel, from amateurs to the national teams, have been invited to participate.
Draper said they want to determine where the main problem is.
"Is it the game, the rules, the training or the medical treatment?" she asked.
In the informal rugby sector, incorrect or insufficient training could be contributing to spinal cord injuries, added Draper, and injury prevention programmes need to be included.
Gail Ross of the Players' Fund said researchers want to track down the trends, analyse the data and find out why, where and how the injuries happened.
The results are expected in August and will hopefully be presented at the SASCA/SANRA Joint Congress in September in Durban, and the 15th National Sports Injury Prevention Conference - Be Active, Be Safe - to be held in October in Adelaide, Australia. Similar research has been done in countries like Australia and New Zealand.
---
This work is licensed under a Creative Commons Attribution-NoDerivatives 4.0 International License.
Please view the republishing articles page for more information.
---