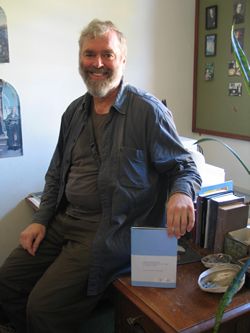 New light on old works: Associate Professor Rodney Edgecombe's new work on Thomas Hood, puts the lens on his non comic verse. The publisher is Cambridge Scholars Press.
From the pen of Associate Professor Rodney Edgecombe comes a new work on Romantic poet Thomas Hood, A Self Divided Poet: Form and texture in the verse of Thomas Hood.
This is Edgecombe's 11th book, examining a "neglected minor comic poet, one whose non comic verse is better than people hitherto acknowledged".
It is the first to devote itself exclusively to Hood's verse and provides a detailed analysis of two "serious" poems, Hero and Leander and Plea of the Midsummer Fairies, to better reflect his range.
"Hood figures in general poetry studies, but nothing detailed has been written on his work in the past 50 years," Edgecombe notes.
WH Auden thought Hood was a major poet, but Edgecombe remains unconvinced.
"He's caught half way between being a second-rate and a major poet."
Nonetheless, the book gives Hood's comic genius its due, with "detailed accounts of the deftness and panache of his light-hearted oeuvre".
---
This work is licensed under a Creative Commons Attribution-NoDerivatives 4.0 International License.
Please view the republishing articles page for more information.
---