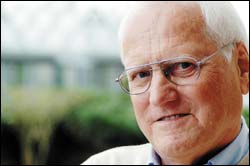 Current affairs: Professor Siedler, discoverer of a new current.
Just off the coast of Madagascar '" at about 25°S - lies a 50-100km-wide and up to 800m-deep current that transports about 10 million cubic meters of water per second to the east.
It lay undetected for years until Professor Gerold Siedler of the Leibniz Institute of Marine Sciences (IFM-GEOMAR) at the University of Kiel in Germany, together with UCT colleagues, pinned down the structure and source of the current.
This new-found current, dubbed the South Indian Ocean Countercurrent, flies in the face of textbooks and atlases, which have water in this part of the Indian Ocean flowing from east to west, explains Professor Johann Lutjeharms of the Department of Oceanography.
"Now suddenly we discover, based on new satellite data, against all expectations and previous experience that here in the middle of the wide ocean is this relatively small current bucking the oncoming traffic and just pushing the opposite way," says Lutjeharms.
The study was a collaboration between Siedler and UCT colleagues, Lutjeharms and Dr Mathieu Rouault. The investigation was carried out during Siedler's research stay as Humboldt Research Fellow at UCT in 2006.
---
This work is licensed under a Creative Commons Attribution-NoDerivatives 4.0 International License.
Please view the republishing articles page for more information.
---