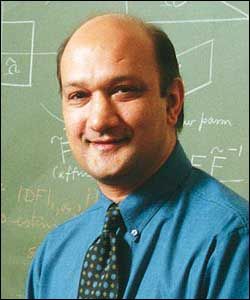 Professor Daya Reddy
UCT has secured seven of the first 21 National System of Innovation (NSI) research chairs, established within strategic research areas at South African universities.
The announcement marked the conclusion of the first round of the Department of Science and Technology\'s new South African Research Chairs Initiative (SARChI), one that will attempt to reverse the country\'s decline in research output and renew and extend the country\'s scientific infrastructure base.
The UCT candidates are Professor Daya Reddy (computational mechanics), Dr Erwin de Blok (astrophysics), Dr Ernesta Meintjes (brain imaging), Professor Kevin Naidoo (scientific computing), Professor Iqbal Parker (cancer biology), Professor George Philander (climatology), and Professor Clifford Shearing (security and justice).
The former Dean of Science, Reddy is a National Research Foundation A1 researcher and the only South African scientist to belong to all four of the country\'s science academies. Reddy is heavily involved in UCT\'s Centre for Research in Computational and Applied Mechanics.
Parker heads the Division of Medical Biochemistry. The award will allow him to expand his work on oesophageal cancer, though his focus will include epidemiology and molecular biology.
Meintjes is a key member of UCT\'s Brain Behaviour Initiative, one of two research signature themes UCT supports. Her research has two thrusts: functional magnetic resonance imaging (MRI) and diffusion tensor imaging studies of brain development in children with fetal alcohol syndrome, and cardiac MRI.
De Blok, formerly of Cardiff University\'s School of Physics and Astronomy, is spearheading research on the distribution of dark matter, which comprises 95% of the universe\'s total mass. Astrophysicists have been trying to pin down the properties of dark matter, a crucial part of cosmological theories.
Philander was the Knox Taylor Professor of Geosciences at Princeton University and director of their Atmospheric and Oceanic Sciences programme. He is a specialist in ocean-atmospheric interactions and climate fluctuations, including El Nïno and La Nïna.
Shearing is Professor of Criminology and director of the Institute of Criminology in the Faculty of Law. With around 39 years\' experience as a criminologist (including a stint with the Centre of Criminology at the University of Toronto), he was a member of a multinational panel that led an inquiry into curbing violence and intimidation in the 1994 elections.
Naidoo is acting head of UCT\'s Centre for High Performance Computing and a member of the American Chemical Society. His research group uses computational methods to calculate physical properties of carbohydrates, dendrimers and Platinum Group Metal complexes.
---
This work is licensed under a Creative Commons Attribution-NoDerivatives 4.0 International License.
Please view the republishing articles page for more information.
---