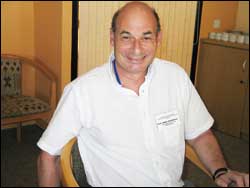 Property rights: Prof Julian Kinderlerer, who has stepped into UCT's new Chair of Intellectual Property Law, believes there are many challenges for intellectual property education in Africa.
When Julian Kinderlerer left South Africa for Cambridge in the turbulent 1960s, it was on a one-way ticket to study biochemistry.
He'd received a major scholarship, but there were also political considerations. The National Union of South African Students (NUSAS) activist was fast becoming persona non grata in the eyes of state authorities.
Nearly 40 years later, the UCT science graduate (chemistry) is back at his alma mater to take up the new Chair in Intellectual Property Law.
"This is an important moment for the law faculty," the Dean of Law, Professor Hugh Corder, said. "UCT is delighted to have been able to secure someone who is a leading researcher with links throughout the world, and who is a member of the prestigious European Group of Ethics in Science and New Technologies, someone who reports to the president, council and parliament of the European Union."
Kinderlerer, the former Professor of Biotechnology Law in the Institute of Biotechnological Law and Ethics at Sheffield University, will spend six months of the year (December to June) teaching and researching in Cape Town. The other half will be devoted to his academic activities in the Netherlands (he has 12 PhD students to look after) where he is Professor of Biotechnology and Society in the Technology University in Delft.
Straddling both law and biotechnology, Kinderlerer is a treasured find. His five-year appointment has been underpinned by a R3 million grant from South Africa's Innovation Fund and further funding by the Andrew W Mellon Foundation for the establishment of a parallel research unit in IP law.
Though he is not a law graduate, his interest in intellectual property grew in relation to that in biotechnology. In 1983 the British government set up an advisory committee in genetic manipulation and Kinderlerer found himself representing the university's teachers' union. Over the next 20 years he moved gradually from molecular biology to a "fascination with the law".
"It's very exciting to be back in my country after 40 years. The changes are discernable."
South Africa has come some way since then, but a poor development record still haunts the country and continent. In considering intellectual property law and its roles in African development, questions arise. Is the Western IP model of any value in an African context? Can IP be used to harness Africa's intellectual capital, especially traditional or indigenous knowledge? Kinderlerer points out that although African countries are rich in biodiversity and indigenous knowledge, they must address property issues if they want to stimulate inventions and innovations and compete in the global economy.
"South Africa is at a crossroads: part of both worlds, a bridge between Western developed and African developing countries lacking innovation.
"But we can do things here that others can't do. That makes it very exciting." HELEN THÉRON Professor Julian Kinderlerer was the keynote speaker at the two-day World Intellectual Property Organisation (WIPO) National Symposium on Intellectual Property Education, Training and Research. The symposium featured prominent names in the IP field in Africa. IP is one of the key drivers of economic growth, but there is insufficient awareness in the developing world of how to shift from tangible property assets to IP assets - and how to commercialise such assets. The conference was a key event, not only for South Africa, but for the region. Speaking at the conference, the Dean of Law, Professor Hugh Corder, said: "The present state of affairs places developing nations at a decided disadvantage. By operating within the existing framework, multi-national corporations and developed nations have been able to maintain their dominance over developing nations by controlling intellectual property rights for such things as medicines, crop seeds, software and books." He added: "It is vital that new proposals, derived from independently-driven research, be encouraged."
---
This work is licensed under a Creative Commons Attribution-NoDerivatives 4.0 International License.
Please view the republishing articles page for more information.
---