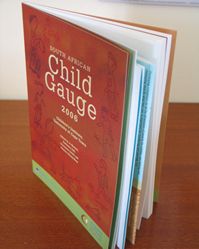 The
South African Child Gauge 2006
was launched yesterday in Pretoria, at a time when the African National Congress declared 2007 as The Year to Intensify the Struggle against Poverty.
The producer, the Children's Institute at UCT, focused the South African Child Gauge 2006 on children and poverty.
In its second year of publication, it is an annual snapshot of the realities South African children face.
With government as their main target market, this work of the Children's Institute, as a policy and law reform research institute, is guided by a legal framework. The Constitution, international law and South African jurisprudence form the groundwork for an examination of key government policies, laws and programmes (like the Child Support Grant and the No-Fee Schools Policy) to realise children's rights.
The South African Child Gauge 2006 is accompanied by a pull-out map of South Africa, providing a provincial reference to a few socio-economic indicators. In the Western Cape, for instance, almost a third of the 1.5-million children live in overcrowded dwellings.
But, the province has the lowest HIV-prevalence rate among children (0.8%) and the highest proportion of children receiving antiretroviral treatment (61%). The data comes from the Children's Institute Children Count '" Abantwana Babalulekile Project.
---
This work is licensed under a Creative Commons Attribution-NoDerivatives 4.0 International License.
Please view the republishing articles page for more information.
---