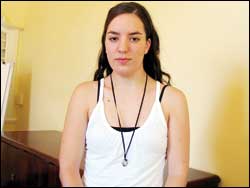 Academic lineage: Emma Lambert-Porter, a graduand with strong family links to UCT.
When Emma Lambert-Porter steps up to be capped with a Bachelor of Business Science (information systems) this week, among those to applaud her will be her grandfather, 81-year-old Dr Plato Mavros of the class of 1947.
Mavros finished his medical studies when he was just 22. He did his housemanship in South Africa and returned to the former Southern Rhodesia, now Zimbabwe, where he's practised medicine ever since.
According to his daughter, Danae Lambert-Porter, Emma's mother, he is retired but still does regular locums - and bundles of pro bono work. He's also a leading South African philatelist and a keen tennis player.
The family connection, she said, started with two of her father's siblings: Achilles Mavros, who studied for three years before abandoning his degree in 1933, and Poppy (Calliope) Mavros, who graduated with a BA in around 1936 and who now lives in Greece.
Two of Dr Mavros' four children are UCT alumni. Danae graduated with a BSocSci in 1976, and her sister, Suzanne, graduated with a BA in 1980.
Mavros also attended the 2001 graduations of Emma's siblings, George (engineering) and Sarah (BA). He also attended a graduation in Oxford in 2005.
"He's really looking forward to this one," Danae says. "All family members are proud alumni and have kept close ties with the university and the friends they made there. My father attended the 50th reunion in 1997 and is looking forward to their 60th reunion next year - so plan something big, please!"
Mavros has plenty of fond memories of his times at UCT. Like the time he and friends crashed their car into P Zettler's Chemist in Breda Street, near College House. One of the friends, a Jock Findlay, took the accident in his stride and generously volunteered to patch up his friends - with the ready supply of P Zettler's bandages.
Later than night, Findlay also locked a police officer into College House's telephone room when he came round to make enquiries.
---
This work is licensed under a Creative Commons Attribution-NoDerivatives 4.0 International License.
Please view the republishing articles page for more information.
---