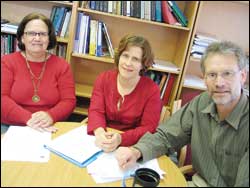 Pioneers: SALDRU's Prof Murray Leibbrandt and Dr Ingrid Woolard (middle), principal investigators of the initial baseline study, with colleague and survey administrator, Brenda Adams.
UCT's Southern Africa Labour and Development Research Unit (SALDRU) has been awarded R27-million to conduct the baseline survey for a first-ever national panel study on poverty.
The South African Presidency has embarked on an intensive multi-million rand effort to track - and understand - the shifting face of poverty by closely following more than 30 000 people, young and old, rich and poor, over a period of years.
"This is an example of how a university can contribute to transformation while maintaining the highest academic standards," said SALDRU director, Professor Murray Leibbrandt.
"The National Income Dynamics Study is a dream project: the university is able to help government govern better, existing researchers will have access to a wealth of new information, and we can train a new generation of students and junior staff."
Dr Ingrid Woolard, SALDRU's chief research officer: "Everyone knows that poverty exists. But to fight it we need much more detail about what forces propel some people out of unemployment and into jobs, while others remain behind, without work, without skills. For that, and to track obstacles in similar transitions from high school to further education, we need to monitor large numbers of people over long periods of time."
Next year about 300 fieldworkers will fan out across the country to complete a detailed set of questionnaires with 8 000 households.
"This kicks off the research cycle: survey, input, analyse, report - and every two years or so, it's repeated. It's a huge project," said Woolard, who will be joined by veteran SALDRU staffer Brenda Adams.
A key feature of the panel study is its ability to follow people as they move out of the original 8 000 households, whether they're migrant workers, young married couples or students.
"This kind of research is critical for many of the country's most pressing economic debates about whether poverty has decreased and if so, by how much, and why," said Woolard.
"We should be able to track the impact of pensions, child support grants, and other services. We'll get a far more accurate picture of the coping strategies adopted by households facing changes, like the death of a breadwinner from AIDS."
The survey will also reveal important information about issues like internal migration, birth and death, savings, health, education and spending patterns.
"It's all going to be in the National Income Dynamics Study," Woolard concluded. "The story of South African lives - only this isn't fiction. It's backed up by cold, hard numbers."
---
This work is licensed under a Creative Commons Attribution-NoDerivatives 4.0 International License.
Please view the republishing articles page for more information.
---