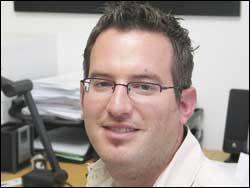 Moving up the ranks: Dr Jaco Barnard, one of the winners of this year's Fellows Awards.
UCT Fellows instituted the Fellows Award in 2005, recognising the work of upcoming young academics who have contributed to research and who have been at UCT less than five years. This year's recipients were Dr Jaco Barnard and Associate Professor Bruce Bassett.
Dr Jaco Barnard, 27, has been with the Department of Private Law for three years. His field of expertise lies in the inter-disciplinary links between politics, philosophy, economics and psychology. Barnard's work is primarily involved with jurisprudence and his interests are specifically in postmodern and poststructural theories of law.
He graduated with a LLB magna cum laude from the University of Pretoria in 2002, in that year also receiving a special award from the Gauteng Law Council as the law student of the year.
His doctorate, which he also completed at Pretoria, focussed on legal philosophy, specifically in the area of private law's relationship with public law.
When Monday Paper spoke to Barnard, he was about to jet off to Cambridge University in England to deliver a paper at a conference on justice and reconciliation. He is also in the process of writing two books, one an elaboration of his doctoral thesis, and the other volume on big business and the Truth and Reconciliation Commission.
"My research situates law within social context, which is a very important part of democratisation," he says.
Associate Professor Bruce Bassett holds a joint position in the Department of Mathematics and Applied Mathematics and at the South African Astronomical Observatory (SAAO) as a research astronomer.
His area of speciality, dark energy, attempts to understand the recent discovery that the universe is not only expanding but also speeding up. Einstein's Theory of Relativity could come under threat as a result.
To get an accelerating universe basically requires some form of anti-gravity. The simplest choice is called the cosmological constant, Bassett says. Although Einstein originally introduced the cosmological constant to get a static universe, he later rejected it as his "greatest blunder" when the expansion of the universe was discovered.
"His theory of relativity might be wrong, but his greatest blunder may have been his greatest find."
One of the uses of his research, Bassett says, is to analyse the amount of data to come out of cosmology. For example, Google searches through approximately five petabytes - each petabyte equals one quadrillion bytes - of data. New cosmological datasets will produce similar amounts of data every year.
"We need to develop techniques to automate the process," he says. "These solutions can then be applied in the real world."
Having been a researcher at a number of global institutions, including Kyoto University in Japan and the University of Portsmouth in England, he is keen to build a bridge between South Africa and the rest of the world.
Bassett is flattered by the Fellows Award.
"One of the most common laments I've heard among young lecturers and researchers is the feeling of being forgotten at the bottom," he says. "All initiatives to combat that sensation are very welcome."
---
This work is licensed under a Creative Commons Attribution-NoDerivatives 4.0 International License.
Please view the republishing articles page for more information.
---