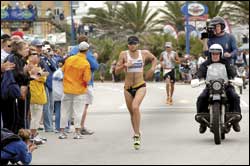 Nerves of steel: Ironman races are among the most prestigious on the world sporting calendar, but triathletes sometimes take a battering, as Prof Martin Schwellnus and Dr Malcolm Collins found again this year.
For long, everyone has known why athletes cramp during endurance events, be it soccer players going down two minutes into in extra time or Comrades runners suddenly calling for a rub-down as Polly Shorts beckons.
Conventional wisdom puts it down to two things: either a case of dehydration, or an electrolyte imbalance, usually the result of the loss of essentials salts and minerals like magnesium.
For about 12 or 13 years, however, Professor Martin Schwellnus, a sports physician at the UCT/MRC Research Unit for Exercise Science and Sports Medicine (ESSM), has suspected otherwise. In one study after the other, Schwellnus has found that dehydration and electrolyte concentrations had little bearing on who gets cramps or when.
And now a new study, led by him and ESSM colleague Dr Malcolm Collins, has borne out those earlier findings. Twenty researchers from ESSM and the Tshwane University of Technology, took, as they always did, exacting physiological and performance measurements of some 300 triathletes at this year's Spec-Savers Ironman South Africa, which was staged in Port Elizabeth in March. Wanting to compare apples with apples, the 300 were selected because they were of equal ability.
"We asked one very interesting question, though," says Schwellnus. That query had to do with what kinds of times individual athletes expected to finish each leg of the race, and the total event. The question proved to be pivotal.
Almost to the triathlete, each one that had predicted that they would finish the legs and the race faster than they normally would, suffered from cramps. "And there is no evidence that it had anything to do with dehydration or an electrolyte imbalance," says Collins.
Then what causes the cramps? Fatigue, believes Schwellnus. A new fatigue hypothesis suggests that cramping develops when the muscles grow tired, which is when they become more "excitable" and twitchy, he says.
"Which is why cramping always comes at the end of an endurance event."
Slowly, the scientific community is taking note of these findings, as Schwellnus found when he presented the fresh data to an October conference in Chicago, which coincided with the Chicago Marathon. The New York Times even picked up on the story.
For the UCT researchers, the findings are leading to even more interesting questions. Like why would triathletes decide beforehand to push themselves so hard? That's one they'll pose to Ironman participants next year.
They will also ask why triathletes, combating the symptoms of colds and flu and against the advice of their doctors, still turn up for the race? No fewer than 49% of the triathletes in the study reported a flu-like illness in the six weeks before the race.
"We were actually surprised at the number," says Collins.
Not only did the athletes perform poorer than they were expected to, but doctors fear that the strain could, if the triathletes keep it up, damage the heart in the long run.
In a final study, this time on Achilles tendon injuries, the researchers also found that 17.4% of the triathletes showed pre-race symptoms of Achilles tendinosis, a condition in which the tendon degenerates as a result of recurring small tears. Immediately after the race, there was an increased blood flow have the tendon and surrounding tissue.
Sure, that blood flow returned to its pre-race volume after six to eight weeks, but the long-term consequences of that bumped-up blood flow still have to be determined.
Why is why the UCT researchers will be back in Port Elizabeth in March next year.
"The Ironman is probably one of the most extreme endurance events around," says Collins. "Triathletes put their bodies through incredible stress."
More for the scientists to learn.
(Collins and Schwellnus worked with Professor Lucille Smith of the Department of Sport and Physical Rehabilitation Sciences at Tshwane University on the 2006 Ironman study.)
---
This work is licensed under a Creative Commons Attribution-NoDerivatives 4.0 International License.
Please view the republishing articles page for more information.
---