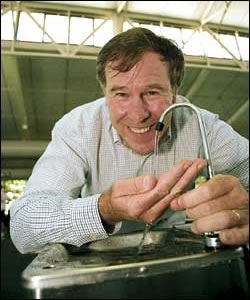 Holding their drink: The American Runner's World has listed Prof Tim Noakes and his work on hyponatraemia as among the most important moments of the past four decades.
Professor Timothy Noakes is one of the world's most respected sports scientists. But even with his lofty reputation, it still took Noakes, UCT's Discovery Health Professor of Exercise and Sports Science and director of the UCT/MRC Research Unit for Exercise Science and Sports Medicine, nearly 20 years to convince athletes, officials and scientists alike that often runners, especially those who tackle marathons, consume way too much fluid during races, egged on by clever marketers and faulty science. Over the past few years, though, Noakes has gone from crackpot to last word on the subject, and his work on hyponatraemia, the dilution of the blood's salts to critical levels as a result of all that drinking, is widely accepted these days. Now Runner's World magazine in the US has listed Noakes and his uphill battle among its 40 Most Influential People and Moments of the Past Four Decades in its November edition. Noakes, one of only five non-Americans on the list, features among scientists like Kenneth Cooper, named for his pioneering work to make "exercise accessible to the out-of-shape masses", and David Costill, who "helped usher in an era of athletic enlightenment". Noakes is known for more than just hyponatraemia, of course. The fourth edition of his bulky Lore of Running "is considered the ultimate tome on the science of running", says the Runner's World piece. But his findings on hyponatraemia are epochal. "Science changes slowly," Costill is quoted as saying in the article. "The recognition of hyponatraemia is one of the biggest changes of the last 30 years." The battles of those two decades may now, at last, be water under the bridge.
---
This work is licensed under a Creative Commons Attribution-NoDerivatives 4.0 International License.
Please view the republishing articles page for more information.
---