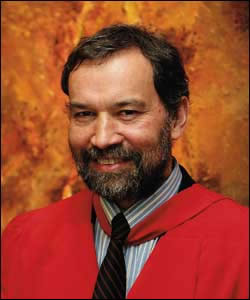 Prof David Schalkwyk recently completed a book-length study of love and service in Shakespeare.
Professor David Schalkwyk of the Department of English Language and Literatures delivered his inaugural lecture on October 11. In his lecture, titled Hamlet's Dreams, Schalkwyk examined the relationship between agency and imprisonment in Shakespeare's work and compared it to some South African prison writing. Schalkwyk took the audience on an imaginary journey to Stratford-upon-Avon, Robben Island and Pretoria Prison during apartheid. The link, you may think, is unimaginable. Sonny Venkatrathnam, an inmate at Robben Island, where Nelson Mandela was serving a life sentence, kept a copy of Shakespeare's works hidden in his cell, Schalkwyk recounted. Venkatrathnam would circulate the book among his fellow political prisoners, who would autograph their favourite passages. Madiba signed his name on December 16, 1977, to Act II, scene ii, lines 32-37 of Julius Caesar. ("Cowards die many times before their deaths; The valiant never taste of death but once," etc.) Shakespeare and Robben Island writing are indeed linked. Physically imprisoned and stripped of his soul's outlet, Madiba employed Julius Caesar's words to "appropriate Shakespeare's voice as his own", Schalkwyk said. Shakespeare was common to the literate elite. There are 32 signatures in the Robben Island book. So, too, Hamlet was imprisoned, be it an imprisonment of mind, rather than body, said Schalkwyk. He is a prisoner in his own nightmares. Robbed of agencies and trapped by his dreams, the language Shakespeare chooses for this character is a reflection of Hamlet's interiority. Essentially, Schalkwyk said, it's a case of language as a system versus the capability of individuals to express themselves through this system.
---
This work is licensed under a Creative Commons Attribution-NoDerivatives 4.0 International License.
Please view the republishing articles page for more information.
---