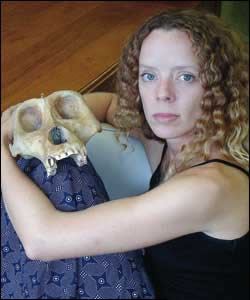 Dr Becky Ackermann
What makes a good teacher? Good communication? Passion? Inside-out subject knowledge? Keen interactive skills?
Tick all of the above, and more, say UCT's newest Distinguished Teachers Award-winners; four women singled out for the value they bring to the craft.
DTA recipient Dr Becky Ackermann (archaeology) says the rewards of teaching are growing minds - "Both theirs and my own".
Her fellow awardees, Dr Justine Burns (economics), Dr Zimitri Erasmus (sociology) and Liz Mills (drama), would no doubt agree.
For Ackermann there's no set recipe. The best lecturers in her formative years weren't the ones who dished out last year's notes and stolid theory. "They brought their science to life, keeping abreast of the literature and pulling in relevant, topical materials. The best mentors were the ones who supported me but gave me freedom to grow and pursue my own interests and ideas."
Ackermann's nominees praise her rigorous approach: "Her course runs like a well-oiled clock, with an excellent website."
And instead of diversity being a stumbling block in the classroom, Ackermann believes it enhances her teaching.
"It is precisely this diversity that makes discussion of human evolution so rich and rewarding in South Africa. We are diverse, and it is important for students to understand why that is so, and how we came to be that way."
The award means a lot to her. "It really is nice to know that I am having a positive effect." But there are frustrations. "Excellent teaching doesn't get as much recognition as excellent research. Both leave an important legacy."
In addition to her postgraduate teaching, Erasmus teaches a popular undergraduate course, wrestling with "knotty issues" of class, race and gender. This from her nomination: "She excels across this broad range: students, past and present, speak of her passion, her superb facilitation, her gift for listening."
Her method is to gently push the boundaries of students' minds. "I start where they are at; creating as safe a learning environment as possible."
She believes in making theory come alive by relating it to real experience rather than treating it in the abstract. "I allow students to have a conversational voice in class; often sitting in silence and repeatedly asking questions until this voice emerges. But for this you need lectures longer than 45 minutes."
It's particularly gratifying when student tell her years later that her teaching changed their lives. And it's her staying power that keeps her working in an environment that was, and often still is, "not easy to negotiate".
For Burns, the challenge begins when she walks through the door of her second-year microeconomics class. There are 1 200 students on this course.
Passion for subject and student go hand in hand. "Yes, teaching is a calling," she says, "but it's more than that. A good teacher is someone who is able to communicate even the most complex subject to students from vastly different educational backgrounds. I hope that this is my strength."
Burns cares passionately about making sure that every student in her class understands the material (which in economics is often technical) and knows why it matters for the real world. "Even if they haven't had the greatest high school education. I'll take as much time as needed to try and achieve this goal."
Being an active researcher helps, since she can bring this learning into her classes.
Mills has been teaching for 23 years, enough, says her nomination, to steer the drama department through the re-orientation of the teaching of theatre voice from an essentially Anglo-American pedagogical and conceptual model to one more intrinsically South African.
Her strengths? "A passion for theatre and performance, a vision, a good sense of humour that allows for a bit of irreverence, patience, and respect for students, discipline and self."
She adds: "I think that I have an ability to hold the focus of the learning on the work and this the student experiences as both grounding and nurturing."
Mills believes university teaching should explode any "closed concepts" of knowledge that student's might bring when they arrive on campus. "Knowledge needs to be dynamic, something a student can revel in. I like to view work as a project of possibilities, and in the theatre context it is the thing that you can't yet imagine that is the most interesting."
For Mills it's a moment of triumph when a student becomes independent and begins to mature the work for themselves in their own way.
"It is a particularly nice award to get because one is nominated by students or colleagues and so someone took the time to notice - or was inspired by the work."
---
This work is licensed under a Creative Commons Attribution-NoDerivatives 4.0 International License.
Please view the republishing articles page for more information.
---