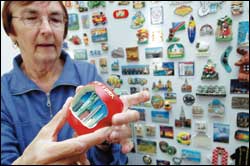 Ingrid Thom is really attracted to souvenir magnets. (Okay, now we've got the bad wordplay out of the way.) It all started about 10 years ago when she purchased her first piece in Australia, a depiction of the Sydney Opera House, which she stuck onto a filing cabinet in her office in the School of Education. After that, kindly students and academics started adding to the collection, bringing one or two along after every international conference or holiday. Before long, the filing cabinet proved too small and Thom had to move the magnets to a white board in her office. The assortment has now spilled over onto a second board, and numbers - Thom keeps a strict record of them - 172 magnets from 43 countries. Thom's latest pieces include ones from the city of Dubrovnik in Croatia and the South Pacific island of Vanuatu (of Survivor fame), another from Madrid (her second), an Amsterdam one in the shape of the traditional Dutch dress, as well as a few of the signature yellow taxis from New York. Many of the magnets hail from places Thom has been to, a few from those she hasn't. Yet. "When I look at them, I think to myself that one day I'll get there," she says.
---
This work is licensed under a Creative Commons Attribution-NoDerivatives 4.0 International License.
Please view the republishing articles page for more information.
---