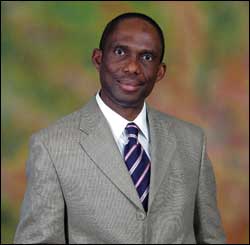 New Dean of Commerce, Prof Melvin Ayogu: "Transformation underpins all we do."
Melvin Ayogu never saw himself as dean of an academic faculty. He started out as a banker at 17 and obtained his professional qualification at 21, working during the day and studying at night. But then he didn't plan on coming to South Africa either, certainly not in 1985 when he was photographed for The Ohio State University newspaper carrying a placard urging his alma mater to divest in South Africa and smash apartheid.
The 51-year old new Dean of Commerce is amused by the irony. Ayogu joined UCT in 2000 as a visiting associate professor from the University of Jos, Nigeria, and has been steeped in the institution ever since.
In 2001 he was appointed to the School of Economics, taking a step up as acting director in January this year. He also convenes the PhD programme in economics and is the faculty's representative on the Doctoral Degrees Board.
His new portfolio may not be something he envisioned when he came to these shores, but the overwhelming support he received from faculty during the appointment process makes one thing clear: as dean, Ayogu is a very popular choice.
Born and schooled in Nigeria (he's from the Enugu State in the eastern region) it was only an aversion to the sight of blood that swayed the young Ayogu from a career in medicine.
"I couldn't dissect frogs. They had to give me Periplaneta americana (cockroaches) at school," he jokes.
He became an Associate of the Chartered Institute of Bankers (ACIB), London in 1979 but instead of a career in banking, he left to pursue higher education in the US. By 1982 he had an AA (Hons) from Santa Monica College in California, followed by a BA Economics (summa cum laude) from California State University in 1984, and an MA Economics from The Ohio State University in 1986, followed his PhD in Economics in 1989.
It was a rapid sweep in anyone's books and reflects a singular determination. His broad expertise spans subject areas like political economy, international finance, money and banking, industrial organisation, which just happen to represent the four pillars of the faculty (accounting, management studies, the Graduate School of Business and economics).
Ayogu also has extensive Africa networks, important for building bridges and collaborations. And as a Nigerian, he is comfortable with diversity and its demands.
"Nigeria a very diverse country, probably the most ethnically diverse in he world, with 140-million people, 36 states, 200 languages and over 70 universities."
And with great pressure on them to achieve, many Nigerians are educated in the UK and US.
"In fact, Ibos are said to be the highest educated ethnic group in the States," he said. It is this competitiveness that drives many of his countrymen to seek postgraduate qualifications of the highest order.
While the news of his appointment is still fresh, Ayogu has already hit the ground running. In his office he's meeting with departmental manager, Gadija Allison, and his secretary, Dalene Loubser, to map a path forward until he moves to the Dean's Suite upstairs.
First up on his agenda is transformation. Like the dean before him, Ayogu regards this as serious business, permeating the quality of research, teaching and learning in the institution.
"Transformation is not an objective, it's an imperative. We need it to survive. It's important for social and moral stability. It doesn't stand alone; it underpins all we do."
On the teaching and learning front, Ayogu believes the faculty should provide the environment, the institutional culture and the staff who are able to provide the right academic support for the kind of students the faculty wants to attract.
An institution of UCT's stature and strength, should, he said, "be able to hold those who can't stand". In this regard the Commerce Academic Development Programme was doing sterling work.
Transformation initiatives needed to increase the numbers of South African blacks in the faculty.
"UCT is a well-respected institution. We're doing well in international academic programmes. But we're not attracting black South Africans at the same intensity."
This is glaringly so at postgraduate level, with serious repercussions for succession planning and transformation objectives in the long term. The university is not growing enough of its own timber.
To counter this, Ayogu talks of launching a working group that will revisit marketing strategies around the country. UCT recently graduated the country's first black woman actuary but she had never heard of the course before she met a school counsellor. Talent like this is too easily lost to South Africa.
"Information does matter. We need to explore these things."
At the other end of the scale, Ayogu believes it will be necessary to enter into high-level negotiations with government to reinforce the need for postgraduate expertise among the country's top administrators.
The flagship programme at the School of Economics, the collaborative PhD, now in its fourth year, has a wide range of black Africans represented but not one black South African.
"We need to generate a bigger pool of South Africans. It may not solve all social and skills problems, but it is a constructive step."
He said the faculty needed to retain students to PhD level and thereby change the profile of the faculty's staff.
"We can't do it alone but in partnerships with government and industry."
---
This work is licensed under a Creative Commons Attribution-NoDerivatives 4.0 International License.
Please view the republishing articles page for more information.
---