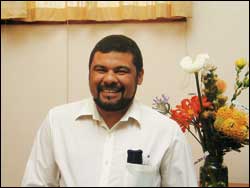 Silver lining: Dr Theo Manuel says dialogue with communities could ease conservation troubles.
Dr Theo Manuel, an affiliate of UCT's botany department, has won the CAPE Conservation Award (Silver Category) for his services to biodiversity conservation in the Cape Floristic Region.
The focus of his PhD research was the responses of poor communities to using protected areas in lowland fynbos. Manuel conducted over 600 interviews in areas bordering the Wolfgat Nature Reserve - a priority conservation site in lowland fynbos in Cape Town - like Mitchell's Plain and Khayelitsha. Manuel also interviewed the main users of Wolfgat: fisherfolk, teachers, and secondary- and primary-school pupils.
Manuel's PhD was motivated by his interest in the increased pressure placed on biodiversity on the Cape Flats as a result of urbanisation. The statistics confirmed his suspicions. In 1996, on the Mitchell's Plain side of the reserve, houses were being erected 100m to 200m from the reserve's border. Now, development has crept right up to the border.
Moreover, council had approved building on the border. "There is no buffer-zone," Manuel said.
A similar situation was found in Khayelitsha. Where initially the border was in no direct threat, socio-economic stress and the ever-increasing need for more housing has resulted in an upsurge in land demand and the mushrooming of informal settlements.
Following pilot studies, questionnaires were used to find out how the community feels about nature conservation. Manuel said he had investigated how local communities could become involved in the planning and management of these areas and identified how they would benefit from the area while retaining its ecological integrity.
"It is pivotal to involve locals as working and planning with them for a common cause is the only logical conclusion and way forward."
Manuel found that people supported the conservation of such areas, provided these are upgraded to benefit them. Secondly, people stay away from these reserves because of their perceptions of crime and a lack of information.
Of the seven principles emerging from the project, a few stand out. If upgraded, utilisation - for non-consumptive use - of the reserves, would include environmental education, recreation, nature protection and eco-tourism. Also, an ongoing dialogue between reserve management and local communities is pivotal as 80% of residents interviewed and 57% of community leaders had no knowledge of reserve management.
Interestingly, Manuel found that Khayelitsha saw their future involvement with the reserve from a job-creation perspective, while those in Mitchell's Plain saw it more in terms of its environmental education and recreational purposes. Above all, socio-economic factors drove responses more than cultural differences.
---
This work is licensed under a Creative Commons Attribution-NoDerivatives 4.0 International License.
Please view the republishing articles page for more information.
---