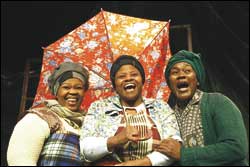 Phenomenal women: (From left) Busi Zokufa, Poppy Tsira and Connie Chiume will light up the stage at the Baxter Sanlam Studio.
The Baxter Sanlam Studio presents You Strike a Woman, You Strike a Rock.
Twenty years after it was first performed, Sibikwa Players' South African theatre classic, You Strike a Woman, You Strike a Rock (Wathint' aBafazi, Wathint' Imbokodo), returns to Cape Town in the Baxter Sanlam Studio from October 17 to 28.
UCT graduate Phyllis Klotz directs this seminal piece of theatre starring the formidable threesome Connie Chiume, Poppy Tsira and Busi Zokufa, all well known for their stage or television roles.
Klotz, a multi award-winning director, also devised the piece with the original cast members Poppy Tsira, Thobeka Maqhutyanoa and Nomvula Qosha, as well as Xolani September and Itumeleng wa Lehuhere.
This production, created out of the experiences of black South African women, celebrates and is dedicated to the 50th anniversary of the historic Women's March to the Union Buildings in Pretoria to protest against pass laws. It brings the stories of three women to life as they endure long, uncomfortable bus rides from the former Transkei to Cape Town to look for work, caring for children and working in the houses of white people while their husbands are digging for precious metals deep in the bowels of the earth.
Poppy Tsira, who plays Sdula, a highly politicised, no-nonsense woman, says: "Women are the silent pillars on which society rests. Since the 80s their role in our society has been scrutinised to reveal an inherent strength, whether as mothers, wives, sisters or daughters. The play remains timeless in it's reflection of how women still have not been recognised for the part they play in the world."
Punctuated by song, chants, rhythms and humour, director Klotz is exhilarated that it still resonates today.
Working under extreme conditions at the time, without any financial support, the group began rehearsals in the women's toilet at St Francis in Langa.
Klotz continues: "Amid mounting political tension, with violence spreading in the country and a state of emergency declared, it became impossible for me to gain entry into the area to work with my cast. We feared that the play would be banned. In fact, one of the songs which called former Prime Minister PW Botha a dog, was banned."
Earlier this year the play was presented at the Grahamstown National Arts Festival and at the State Theatre in Pretoria during woman's month. After its run at the Baxter Theatre, it continues its national tour and travels to the Market Theatre in Johannesburg.
Book at Computicket on 083 915 8000 or the Baxter on (021) 680 3989. For discounted block, schools or corporate bookings, fundraisers, charities or special dinner and show packages, call Sharon on (021) 680 3962.
---
This work is licensed under a Creative Commons Attribution-NoDerivatives 4.0 International License.
Please view the republishing articles page for more information.
---