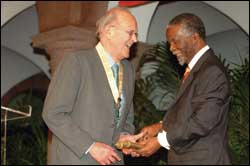 Winning heart: Emer Prof Lionel Opie receives the Order of Mapungubwe from President Thabo Mbeki.
Two UCT academics have been honoured with National Orders, the highest awards that a country can bestow on its citizens through its president.
Cardiologist Emeritus Professor Lionel Opie has been awarded the Order of Mapungubwe, and author Professor André Brink has been honoured for his contribution to literature and for fighting for a just and democratic society.
Emeritus Professor Lionel Opie has received the Order of Mapungubwe in Silver for his "excellent contribution to the knowledge of and achievement in the field of cardiology".
A National Research Foundation A-rated researcher, and one of only two rated medical doctors in the country, Opie is the director of the Hatter Institute in the Department of Medicine.
"The award, to a heart researcher, is of national importance," says Opie in response to this accolade. "It recognises that heart disease is one of the major threats to the health of our nation."
He has published 31 books on heart disease, including the internationally acclaimed doctor's manual Drugs for the Heart, now online as www.opiedrugs.com and currently being translated into Chinese. His groundbreaking research has been widely published during his illustrious career.
His latest research focuses on the connection between heart disease and the growing epidemic of obesity and diabetes.
"In South Africa there is an increasing degree of what we call sub-optimal nutrition - people who are gaining weight through bad eating habits and lack of exercise," he explains.
He bases his work on his well-established glucose hypothesis, formed from his studies that blood glucose taken up into the heart can generate energy for the survival of the threatened heart even when oxygen is lacking. However, this protective effect of glucose is reduced by an oversupply of certain fatty acids, found in overweight people, leading to diabetes and consequently heart disease.
According to the national order citation, Opie "is considered Africa's greatest living heart doctor. Following Chris Barnard, he is South Africa's best-known cardiac doctor internationally".
"I could not recognise myself when I read this!" Opie quips modestly.
He has dedicated the award to his colleagues at the Hatter Heart Research Institute and its predecessor, the Heart Research Unit, as the ultimate recipients.
He concludes: "The World Health Organisation predicts that heart disease will be the major killer in developing countries by 2020. I am interpreting this award as a change in how people see heart disease as not just affecting those who have high blood pressure and cholesterol. As patterns of suboptimal nutrition spread, so will obesity, coronary disease, and diabetes."
In the light of his recent running battles with the government, particularly on crime and violence, Professor André Brink has mixed feelings about his award.
Nevertheless, he is flattered by this recognition.
"It does mean something, coming from within the heart of the new South Africa because I have received awards abroad but not really anything this significant locally," he says. "Having been involved in the struggle against apartheid for many years and having forged very close ties with a number of ANC colleagues, it was a total elation for me when change came and I thought that now I could quietly creep back into my little corner and write. But gradually, I have become totally disillusioned with some of them, and I am finding myself back in the old position of tension with the authorities."
Brink believes that his award gives him a unique opportunity and a certain clout in his issues with the government.
Commenting on the citation on his contribution to fighting for a just and democratic society, Brink says that since writing is a solitary occupation surrounded by silence, it is immensely gratifying to find that silence broken, and to enter into contact with real people who are reacting to what he has written.
"You can't help feeling that it has not been in vain. I have been enormously fortunate in the reaction that I have received, and from this recognition, one gets the energy to recharge one's batteries and go on."
He is disappointed by the restricted readership in South Africa, a result of illiteracy and the lack of access to affordable literature for the majority of South Africans, which also means that the potential for literature is weakened in the process.
And what are his words of wisdom for budding writers in the country?
"Very little of that is needed within the context of UCT where I believe we have the best school of writing in the country," Brink comments.
"And the country should be proud of the young writers that have come from the creative writing course. Perhaps with a young generation starting to break into publishing and becoming known locally and internationally, there is a chance of moving towards making literature more accessible."
Literature, he concludes, can be an adventure and the UCT creative writing centre provides an entry point into this discovery and experience.
---
This work is licensed under a Creative Commons Attribution-NoDerivatives 4.0 International License.
Please view the republishing articles page for more information.
---