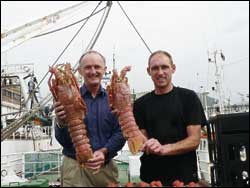 Monsters of the deep: Prof Charles Griffiths (left) and Dr Johan Groeneveld, aboard a Marine and Coastal Management vessel, show off the giant lobster species,
Palinurus barbarae
. "We estimate the age of the lobsters to be between 30 and 50 years old," said Griffiths, "which probably accounts for their size."
Marine biologist Professor Charles Griffith has chalked up the discovery of over 100 new species in his career. These include a new genus of freshwater shrimp, Mathamelita, named after his son Matthew, and a new family of seaslugs, Lemindidae named by his wife (former UCT staffer Dr Roberta Griffiths) after their daughter Melinda - indeed a real family affair! His most recent find is larger meat though: a new giant species of spiny lobster, Palinurus barbarae (Decapoda Palinuridae) from Walters Shoals on the Madagascar Ridge.
Only three new lobster species have been identified in the past 12 years, worldwide. These beauties weigh in at up to 4kgs and were discovered accidentally, when a Spanish fishing vessel working in the Indian Ocean docked in Durban and applied for a permit to export their lobster catch to Europe.The permit section of Marine and Coastal Management (MCM), noted that the lobsters did not match the species noted on the permit. Fearing the catch was illegal, they queried the shipment, but the owners could show from their electronic tracking system that they had been fishing the Walters Shoals. This is a submerged chain of underwater mountains stretching southwards from Madagascar. As it falls outside South Africa's national jurisdiction, the lobster haul was classified as high seas catch.
Nonetheless, the company donated 40 lobsters to MCM and genetic analysis by the University of Stellenbosch showed these to be a distinct species within the well-known and heavily fished lobster genus Palinurus.
The new species at Walters Shoal is named Palinurus barbarae in memory of Barbara Groeneveld the late wife of the paper's first author Johan Groenevelt, a lobster specialist from MCM. The paper describing the new species and its affinities with other species, co-authored by Johan Groenevelt, Charles Griffiths and MCM's Anthony van Dalsen, appears in the latest issue of the journal Crustaceana. The new species is most closely related to the Natal rock lobster, Palinurus delagoae.
The only known habitat of the species, Walters Shoals, are pretty remote, the nearest landfall being 700km to the north at the southern tip of Madagascar, or 1 100km due west at Durban.
"It's expensive to explore out there," Griffiths explained. "The size of the lobsters is probably due to the fact that it's an unfished stock."
There's an irony to the discovery.
"There's a pristine population of really old animals out there and now they will be a free-for-all. It's very likely they will be exploited."
Does size matter? In this case, maybe. Very large lobsters are not as marketable as their smaller sibling species.
"The market is for plate-sized lobsters," Griffiths commented. "One animal per serving. These ones would have to be chopped up!"
Griffiths is still left wondering how the lobsters got to this isolated location initially and how the population is replenished.
"Do drifting larvae originate from Walters Shoals, or from a yet undiscovered parent stock elsewhere, carried by sea currents to the Shoals?"
The answer will determine how localised the population is and how it will react to fishing.
"It leads to the sobering thought that isolated species like this one could be fished to extinction even before they become known to science."
Gold for Griffiths
It's been an annus mirabilis for Professor Charles Griffiths, head of UCT's Marine Biology Research Institute (zoology). Besides the giant lobster find, the marine biologist has an award to add to his collection: the prestigious Gold Medal of the Zoological Society of Southern Africa (ZSSA). The medal will be presented at a society meeting in Potchefstroom next year.
This from the citation: "He [Griffiths] is a prolific scientist who has made his name in several distinct fields of zoological endeavour. First, he is a taxonomist of international repute. Second, he has stamped his mark on intertidal and subtidal ecology. Third, he has made significant contributions towards serving zoologists. He has also served on the council of the ZSSA for several years. And his dedication and efficiency as editor of African Zoology are exemplary."
---
This work is licensed under a Creative Commons Attribution-NoDerivatives 4.0 International License.
Please view the republishing articles page for more information.
---