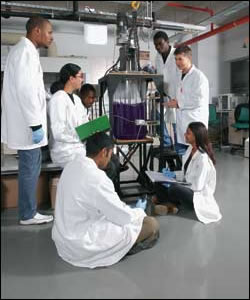 Precious mettle: Assoc Prof Alison Lewis (far right) and students (back, from left) Lucky S'phiwe Mkhwanazi, Nazneen Karbanee, Freeman Ntuli and Mfandaidza Hove; and (seated, from left) Harshad Bhika and Traci Reddy are getting the new Crystallisation and Precipitation Unit at UCT off to a flying start. (Photograph: Hetty Zandman.)
Time was when engineers were more interested in the bits of rock and precious metals floating in water than they were in the water itself.
No longer. The new Crystallisation and Precipitation Unit (CPU) in the Department of Chemical Engineering, under the leadership of Associate Professor Alison Lewis, wants the best of both worlds.
Crystallisation and precipitation from solutions, it is said, are responsible for about 70% of all solid materials produced by the chemical industry. The chemical process is used in many industries - everything from food to pharmaceuticals, jewellery to detergents - but more so in mining where valuable metals have to be extracted from fluids. The unit's ongoing collaborations with those in the minerals-processing industry bear this out.
But increasingly - thank water shortages for that - the emphasis has shifted to the production of clean water, where, as in the case of desalination, excess salts and minerals have to be removed.
"We're interested in extracting what's dissolved in the water," sums up Lewis. "But we're also interested in the water."
That's a growing interest in the unit. Founded in 2000 as the Crystallisation and Precipitation Research Facility, the group has gained both national and international recognition by virtue of its work on, especially, metals and extractive metallurgy. In August, it was granted unit status, becoming the latest of UCT's 56 such entities.
One of the aims of the unit was and remains to advance the existing fundamental knowledge of crystallisation and precipitation. To that end, the unit will focus its attentions on precipitation, improving and fine-tuning the process. The technology, also known as chemical precipitation, is thought to have huge potential in the treatment of waste- and even seawater, where it's competing with other - for now, more economical - processes.
"We're already doing some work in the area of water treatment, but it's getting bigger," says Lewis. "I would say that that's where our future work lies."
To this end, the unit has to build local capacity and skills in the field. It's thriving on that account. Right now, the unit is home to three PhD and four MSc students. And on any given day there are also a few postdocs floating around, with everyone publishing regularly.
The future looks bright for the group.
Assoc Prof Alison Lewis penned a poem about the new Crystallisation and Precipitation Unit - and what it is they do - for its official launch on August 1. We thought we'd run it in Monday Paper as well.
In my journey so far into crystallisation
I've spent many hours in profound consternation
It's not just a question of molecular organisation
Or local supersaturation; or a simple growth equation
It's the subtle interaction of the crystallising particle
With the fluid, the impeller, and almost any other article,
And the chemistry involved can also be quite frightening
And add to it the fact that the rates are all like lightening.
And even taking measurements can be quite intimidating
Those tiny little particles are incredibly frustrating
And when it's under pressure - how do you find the rate?
And when it's all reacted - well then you are too late.
But when we plot the data and we see a little trend
Or the population balance gives us something to defend
Or we write a little model and amazingly! it fits
Then we can get quite excited at this living by our wits.
We stay up late and work too hard, forget to socialise
In solving all the mysteries of these things that crystallise.
---
This work is licensed under a Creative Commons Attribution-NoDerivatives 4.0 International License.
Please view the republishing articles page for more information.
---