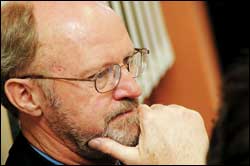 Nobel Prize for novel idea: Prof Robert Grubbs gave a fascinating lecture on "green chemistry".
It started as an intellectual fascination that led to many new possibilities.
This was how Professor Robert Grubbs described his breakthrough in developing an efficient and practical catalyst used in metathesis reaction, which has opened up new opportunities in organic chemistry and won him and fellow scientists, Yves Chauvin and Richard Schrock, the Nobel Prize for chemistry in 2005.
He was delivering the Vice-Chancellor's Open Lecture on Green Chemistry, Catalysis and Fundamental Chemistry, held in the Baxter Centre recently.
Metathesis, which Grubbs described simply as "a new way of breaking things and putting them together again", means "change places".
It has been compared to a dance in which couples change partners.
During this reaction process, double bonds are broken and made between carbon atoms in ways that cause atom groups to change places. This happens with the assistance of special catalyst molecules, metals that "make things happen".
The catalyst developed by Grubbs is made from ruthenium, a rare metal found in South Africa.
It has opened new ways to produce chemicals that are essential for modern life in ways that are more efficient, simpler to use and environmentally friendlier, representing a great step forward in "green chemistry" by reducing potentially hazardous waste through smarter production.
Potential applications include more sustainable commercial products such as bathroom fixtures, sports equipment, military protective armour, pharmaceuticals and a less toxic method of controlling mosquitoes, which could have a great impact in malaria-ridden environments, especially in Africa.
---
This work is licensed under a Creative Commons Attribution-NoDerivatives 4.0 International License.
Please view the republishing articles page for more information.
---