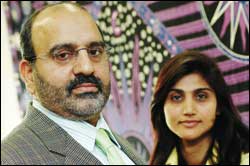 Homecoming: Assoc Prof Ebrahim Moosa is back at his old stomping grounds at UCT, assisting Dr Sa'diyya Shaikh with her research while also teaching and lecturing.
When Associate Professor Ebrahim Moosa left South Africa and UCT for the United States in 1998, it wasn't under the best of circumstances, his house pipe-bombed by, he and others believe, People Against Gangsterism and Drugs (PAGAD), a group he openly criticised at the time.
Moosa may have foreseen a reasonably uneventful life as a scholar in the US and Duke University's Department of Religion, but 9/11 changed all that. Muslims - and Islam - came under the spotlight, and, ironically, sparked a boom in Islamic studies. (Duke itself has just established a US$1.5-million chair, and has also set up a US$1-million graduate programme in the field.)
Never one to shy away from controversy, Moosa has become, in the US, a sought-after commentator on Islam and Muslim societies.
For the past few weeks, though, he's been back at UCT as mentor to Dr Sa'diyya Shaikh of the Department of Religious Studies. Shaikh is working on a manuscript on Muslim mystical philosopher Ibn Arabi (1165-1240), doing a feminist exploration of his works.
Thanks to a National Research Foundation (NRF) Thuthuka mentorship grant, she could turn to Moosa - who first piqued her interest in religious studies and prompted a U-turn in her academics - for guidance, in her "feminist engagement" with Ibn Arabi's often abstruse writings.
"Professor Moosa is one of those unique people who brings together a profound knowledge of the classical Islamic tradition with a mastery of contemporary social science theory and philosophy," says Shaikh. "Working with him has pointed me to more expansive ways of exploring the ideas of a pre-modern thinker like Ibn Arabi."
While here, Moosa is also teaching a graduate course on Muslim ethics, and will deliver a lecture on the topic this week (details below).
As with any religious tradition, Islam and Muslim ethics is coming to grips with modernity and a world where technological change - touching everything from weapons of war to plastic surgery - has challenged many orthodoxies. But let's not for a moment use that as an excuse to not deal with some core issues, says Moosa.
"I think outsiders like to believe that what is happening in the Muslim world is the Muslim world trying to grapple with modernity," he says. "But it gives outsiders - especially Europeans and Americans - the consolation that it lets them off the hook in terms of their engagement and their unethical conduct with large swathes of the Muslim world."
But change, says Moosa, is also required of Muslims, notoriously silent in condemning corruption and wrong-doing in Islamic states.
* Assoc Prof Ebrahim Moosa will deliver a lecture on The Muslim Body in War and Peace, on Tuesday, August 29, at 15h00 in lecture theatre 106 of the Beattie Building on upper campus. In his talk, Moosa will, among other things, ask how contemporary narratives in Muslim ethics on organ transplantation, brain death and other aspects of bioethics and discussions on suicide bombing help the understanding on how the body is imagined in war and peace. Moosa is currently director of the Centre for the Study of Muslim Networks at Duke University.
---
This work is licensed under a Creative Commons Attribution-NoDerivatives 4.0 International License.
Please view the republishing articles page for more information.
---