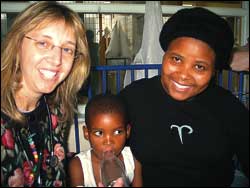 Professor Heather Zar (left) was one of the top three finalists for the Distinguished Woman Scientist Award this year for her innovative research in child lung health.
Paediatric pulmonologist Professor Heather Zar's innovative solutions to diagnose and treat child respiratory diseases have earned her a spot as one of three finalists in this year's Distinguished Woman Scientist Award, sponsored by the Department of Science and Technology.
When Zar returned to South Africa after six years of postdoctoral training in the US, she was struck by the high incidence of childhood lung disease on the continent, especially in children under five, exacerbated by the HIV epidemic and tuberculosis (TB).
She began her research in child lung health, focusing on pneumonia, TB, HIV-related respiratory disease and asthma.
Based at the School of Child and Adolescent Health at the Red Cross War Memorial Children's Hospital, her first breakthrough was finding a cheaper alternative to commercially produced spacers used with an asthma pump.
A spacer is an extension device through which medication from the pump is released into one end, while the child inhales normally.
The low-cost substitute came in the form of an adapted 500ml plastic soft drink bottle.
A hole similar to the size of the pump is melted into the bottom of the bottle, through which the medicine is deposited while the child inhales through the mouth of the bottle.
"It turned out to be an excellent device," says Zar.
So brilliant, in fact, that the results of the study were published in the prestigious international journal Lancet.
Zar is also working on a study diagnosing TB in young children and infants.
In the conventional procedure, gastric lavage, a tube is inserted through the nose into the child's stomach through which a saline solution is introduced to gather a sample of fluid that might contain TB.
"It's a very unpleasant procedure for the child and the person performing it, and it has to be repeated two or three times. The child needs to be hospitalised for it."
Zar has been studying the sputum-induction test, extracting mucus from the lungs by administering salt water through a nebuliser, causing the child to cough.
"It's been very successful, and it is much more effective than gastric-lavage. It's performed without hospitalisation and only one specimen is required and it has much quicker results," she explains. "It was a real advance in childhood TB, with the potential to change global practice."
Zar has had another breakthrough in a study using the TB drug isoniazid (INH) to prevent lung disease and progression in children with HIV.
A randomised placebo-controlled trial showed promising results, with the children on INH having much lower rates of TB and substantially lower mortality.
"This is a widely-available, affordable drug which could potentially have a place in improving the lives of children with HIV, while reducing the incidence of TB significantly."
So how have such relatively simple procedures taken so long to come to light? "I think that we lose many opportunities because research and clinical care are seen as two separate areas when I believe they are complementary," Zar remarks.
"We have an opportunity to make a real contribution to child health by working in the field, questioning what we are doing, and developing new ways to do things better instead of simply accepting what has been passed down." She says that she has been fortunate to work with excellent and very dedicated health care professionals at all levels, including some unlikely contributors.
Christopher Green, a handyman at the hospital, played an important role in developing the bottle-melting technique for the spacer.
Zar's research has been widely published, with more than 50 publications in major international journals.
Of her nomination as a finalist in the Distinguished Scientist Award, she says: "It's wonderful recognition because as a clinician scientist it is quite difficult to compete with peers who are in full-time laboratory-based research. Much of my time is taken up with clinical care and teaching, with no dedicated resources for research. It's gratifying to have this kind of acknowledgment, especially for someone working in a clinical field and in paediatrics."
Many little children will breathe easier because of Zar's dedication.
---
This work is licensed under a Creative Commons Attribution-NoDerivatives 4.0 International License.
Please view the republishing articles page for more information.
---