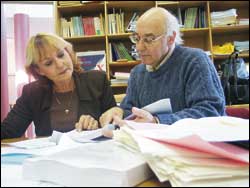 Community map: Shirley Bruk and Prof Milton Shain, director of the Kaplan Centre for Jewish Studies and Research, comb through survey results.
South African Jews, who number around 80 000, have much more confidence in their country than they did seven years ago, despite their concern about rising crime and corruption.
This is the main finding of a 2005 survey conducted by the Kaplan Centre for Jewish Studies and Research and released this month.
The survey follows the 1998 study by The Institute for Jewish Policy Research in London, is association with the Kaplan Centre, and an earlier survey in 1991.
Summarising the main findings, centre director Professor Milton Shain noted that "the most striking thing about Jews in the new South Africa is the ongoing cohesion within the community, the strength of its communal institutions, its attachment to Israel and its confidence in South Africa".
He added: that the Jewish community "is also satisfied with their communal institutions and they appreciate the climate of religious tolerance and diversity within South Africa."
Market researcher Shirley Bruk conducted the survey, face-to-face interviews with a sample of 1 000 adults from Cape Town, Durban, Pretoria and Johannesburg, where 90% of the country's Jews live.
"The study shows the South African Jews maintain a strong Jewish identity in its varying forms. Religious observance is comparatively high, particularly among the youth," she noted.
Bruk said Jews also have powerful bonds with South Africa.
"Very few Jews are planning to leave the country. This is a dramatic shift from what emerged in the 1998 survey."
However, the survey showed that respondents were concerned about the escalation of crime and corruption.
Shain said the survey was important both for the Jewish and wider South African communities.
"It serves both academic and practical purposes and helps the Jewish community plan for its future and tracks changes and tendencies over time. It's also of interest to the government, which takes pride in the country's cultural diversity and does all it can for religious and cultural communities to flourish and feel comfortable."
Key findings:
South African Jews are clearly bound to their Jewish identity
Though they feel strongly Jewish, they also feel strong loyalty to South Africa. This sentiment has not changed noticeably in the past seven years.
Most wanted to remain in South Africa, citing family bonds, emotional attachment to the country and financial and business careers as their main reasons.
Crime and safety were still considered to be a problem. At least eight in every 10 respondents mentioned this factor.
Only 8% of Jews had emigrated in the 24 years since 1982. Many had returned.
Anti-Semitism was regarded as a minor problem, though 73% of the survey said it was a major problem "in the world generally".
Anti-Zionism was seen as more of a problem in South Africa (85% of respondents) than anti-Semitism and it is seen to be rising.
Government always allowed them religious freedom (88% of respondents).
Younger Jews (the 18 to 44 year-olds) were less likely than their older counterparts to think that there was no future for young Jews, mainly those under 30. They did not see the South African Jewish community as an ageing one.
Australia had replaced Israel as the main country to emigrate to. (The countries shared top slot in the 1998 survey). However, respondents were clearly involved with and attached to Israel.
Sixty percent of the respondents felt that, considering present developments in the Middle East, Israel should give up some territory in exchange for credible guarantees of peace. (In 1998, 49% of respondents felt this way.)
Sabbath observance had risen over the years.
The majority of Jewish parents still choose Jewish schools for their children: 70% of those with children at middle/high schools, 77% with children at primary school and 96% of those with preschool/nursery school children chose Jewish schools.
---
This work is licensed under a Creative Commons Attribution-NoDerivatives 4.0 International License.
Please view the republishing articles page for more information.
---