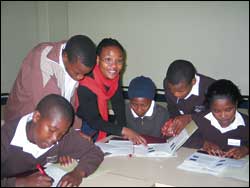 Help at hand: Law students are tutoring school pupils at an "adopted" school in Gugulethu.
The current final-year law class has only two black South African undergraduates, highlighting a widespread problem at the university: too few black South African students. And certainly too few in the law faculty, says the Black Law Students Forum (BLSF).
To address the problem, the BLSF, in association with Linda Mabhena, formed the Social Development Project (SDP) in 2004. Law students give up their time on Saturdays to help the pupils. While their aim is to attract school pupils to law, they provide broader advice. The forum recently hosted a careers day for pupils of the Sithembele Matiso Secondary School in Gugulethu.
While the event provided information on career opportunities, more importantly, it also listed those subjects needed to pursue particular interests. It encouraged the learners to enter fields with a low representations of black people.
Mabhena said the forum had "adopted" the school, providing mentoring and career advice through the Saturday school, and offering free tuition. The aim is to bump up results, at least to the standards required by UCT.
She described the low numbers of black South African students in the faculty as "totally unrepresentative and sad".
"The law faculty has recognised the dire situation, and as a result they have thrown their weight behind this project. They have made it [tuition help] compulsory community service within the faculty."
Luvo (14), Lungisa (15) and Sanele (15) are all grade 9 learners from the school in Gugulethu and have been participating in these classes since the beginning of the year . They said this of the initiative:
Sanele: "We have learnt about what subjects to take if one wants to be an engineer and I would like to finish matric so that I can come to study at UCT. I am very thankful that I could learn all this information."
Lungisa: "It helped me a lot. It helps with subject choice for a particular career and I recommend it to all my friends to come to Saturday school. It's fun."
Luvo: "There are different subjects to choose from and Saturday school makes it clear what to choose for different careers. I have now realised that I want to become a mining engineer and now I know the correct subjects I need to get into this field.
"Our main aims with this project are to at least see some of these students coming to study at UCT. It will take time, as there are major learning gaps that need to be bridged. However, through the efforts at the Saturday School and continued mentorship we should begin to see success," said Mabhena.
The current Head of Social Development, Tracy McGivern, intends targeting younger students at the Saturday school so as to effect real academic change at all stages. As of next year the project will also be tutoring grade 10 learners.
---
This work is licensed under a Creative Commons Attribution-NoDerivatives 4.0 International License.
Please view the republishing articles page for more information.
---