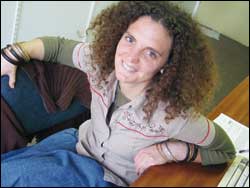 Storyboard: Raffaella delle Donne teaches a second-year course on how the San have been represented and their role in South African heritage. She and co-writer and animator Anthony Silverstone have netted a prestigious UK script writing award.
A quagga with missing stripes and an identity crisis, Bradley the neurotic ostrich and a middle-class sheep called Nora.
They're all from the imagination of UCT graduate and lecturer (religious studies) Raffaella delle Donne, found in her book of children's stories on the San. The work, Khumba and the Lost Legend of the Quagga, has won Delle Donne and her co-writer, alumnus Anthony Silverstone, a coveted UK Film Council script-writing award.
It's the first time the council has run the competition in South Africa and they did so in partnership with the National Film and Video Foundation.
Three years in the making, the script belongs to what the duo hope will become South Africa's first feature-length animated film, using the R100 000 funding prize.
Silverstone is the stop animation fundi - and an honours graduate in molecular biology nogal. Unlike computer graphics, stop animation - or stop motion - is an animation technique that makes static objects appear to be moving. It's central to the claymation technique found in children's blockbusters like Wallace and Gromit and Chicken Run.
"There's a small [animation] industry in South Africa but it's taking off," Delle Donne said.
The UK Film Council's Development Fund has run a number of 25 Words or Less funding rounds in the UK but the South African programme is the first allied to an international partner.
Overseas, the competition has kick-started the careers of many script writers and there are hopes the same will happen in South Africa.
"The South African programme is designed to help writers find a way of fast-tracking high-concept screenplays, which are aimed at the international market and have commercial appeal, the organisers said. In the process, UK and South African script editors will work side by side, bringing an additional development dimension to the programme.
Delle Donne and Silverstone's storyline is about identity and difference in South Africa.
"It's an African story but also a universal story about not fitting in and learning to accept that difference."
The challenge was to turn stories into material that would translate into a family film.
"The script needed to be sharp and punchy so that adults would find it funny, but it had to have some slapstick so that children enjoy it."
Delle Donne and Silverstone also worked hard to ensure the script reflected the nuances of the Born Free generation. In addition to the three characters already mentioned, there's the motherly wildebeest and others found in the gamut of life in South Africa: refugees et al.
"It's a tricky one that; to reflect the diversity in South Africa without resorting to stereotypes," said Delle Donne.
Delle Donne, who has written text books for Maskew Miller Longman (religious studies for grades 11 and 12), hopes awards like this will encourage local writers and script editors.
There's enough American animation, with its skewed take on Africa (consider The Lion King), pouring into South Africa, she says.
"For me, writing is something I want to develop in conjunction with academia."
Delle Donne plans to finish her PhD next year, a study of the appropriation of the San religion by modern-day neo-shamans aligned to the New Age movement.
"One of the criticisms is that neo-shamanism is appropriating shamanistic knowledge from different indigenous communities, like the Native Americans, and making money from it.
"There's a danger of 'colonising' these religions, elements of which become idealised, without including the realities of poverty and alcoholism that dog many of these indigenous people."
Another script?
---
This work is licensed under a Creative Commons Attribution-NoDerivatives 4.0 International License.
Please view the republishing articles page for more information.
---