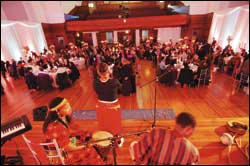 Over 200 women leaders and researchers gathered in Jameson Hall last Monday for a gala dinner to celebrate National Women's Day.
This was the first time that UCT had organised such an event in recognition of women and their contribution to the university. It was also in celebration of the 50th anniversary of the historic women's anti-pass march in 1956.
The Minister of Housing, Dr Lindiwe Sisulu, who was the guest of honour, said it was fitting that such a commemoration was being held at UCT, which was one of the first universities to open its doors to women.
She said that women have to find their place in research and science and to use it to advance all women.
"It is a powerful tool in the hands of women and it is exciting to see that women have embraced this challenge and have used research in a manner that challenges for better service delivery and responsiveness to women's issues, and we have to acknowledge the positive impact that such challenges have made in our society."
Sisulu expressed her concern at the low number of women in academia, about 38%, which does not reflect the country's demographics.
Furthermore, research conducted by the Department of Science and Technology estimates that 82% of women researchers are white, compared to 10% African researchers.
"This is disconcerting," she said.
However, she noted that it was encouraging to see that the National Research Foundation (NRF) rating for young and upcoming researchers had improved.
"The main gender challenge relates to recruiting women at the level of scientific leadership." Vice-chancellor and Principal, Professor Njabulo S Ndebele, recounted the history of women at UCT, from their first admission in 1886 to the ground-breaking strides the university took in recognising women, including the appointment of the first black woman vice-chancellor, Dr Mamphele Ramphele, in 1996, and the inauguration in 1999 of the current chancellor, Graça Machel, the first black woman to take this position in the country.
"Despite these lofty achievements, the university, along with the higher education sector in general, continues to struggle to find women to take up leadership roles. We continue to look for new initiatives for research capacity development, especially in the sciences, to encourage more women to participate in academia."
He concluded by congratulating all UCT women as the "drivers of transformation" through their contribution for sharing their knowledge, skills and mentorship, and their role in uplifting society.
---
This work is licensed under a Creative Commons Attribution-NoDerivatives 4.0 International License.
Please view the republishing articles page for more information.
---