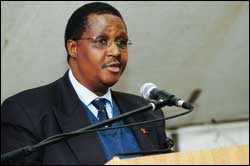 Voice of reason: Prof Barney Pityana delivered the second JD Baqwa Memorial Lecture.
South Africa is experiencing a crisis of leadership, Professor Barney Pityana told a gathering of UCT students and community members at the Forest Hill residence last week.
The former chair of the Human Rights Commission and former director of the World Council of Churches Programme to Combat Racism was delivering the second JD Baqwa Memorial Lecture, Perspectives on Leadership and the Silences of Reason.
Professor Jeff Dumo Baqwa held the inaugural Chair in Primary Health Care when he died tragically in 2001. He and Pityana joined UCT at the same time in 1993 as research officers.
And though the teeming winter rain may have turned the ground to a quagmire, it didn't lessen the enthusiasm that greeted Pityana when he arrived at Forest Hill, on invitation from the students. Baqwa was residence warden at the time of his death.
Describing Baqwa as a "critical intellectual, an engaged academic and a social activist par excellence", Pityana paid tribute to the feisty former student leader and black consciousness advocate, before turning to the dearth of leadership in the country.
He said he was astounded that a country that held such promise 12 years ago should be mired in escalating "gratuitous violent crime, attacks on the police, crime syndicates that operated with impunity and the carnage on the roads due to a culture of disregard for the law and human life".
"There are others who would take away the prevalence of HIV and AIDS, the destruction of so many of our young people, and what appears to be a lack of imagination of commitment to deal with these crises."
He said leadership was not cheerleading or amassing the highest number of votes or singing revolutionary songs.
"It is, to quote Sekou Toure of Guinea, to be part of the 'living part of Africa and of her thought; you must be an element of that popular energy which is entirely called forth for the feeling, the progress and the happiness of Africa'."
Pityana said leadership demanded content, stature and moral character. He criticised sectors of society that abused the country's Constitution, using only those elements that advanced their own interests.
"When I now observe the strange phenomenon of citizens demonstrating in the court precincts, clearly intending to apply public and non-judicial pressure on the judges to pronounce judgements that suit their particular interests, then the centre cannot hold."
The country's noveau riche also came in for stick for their part in the country's social breakdown and failure to provide real job creation.
And on the eve of National Women's Day, Pityana had harsh words for young South African men.
"We are breeding a generation of violent, cold and mean young men, especially who are no longer capable of truly loving, of tenderness towards the opposite sex –There is a danger that this could be a generation of rapists who do not value women in general, but who also pose a danger to their own mothers and sisters."
Populist politics had generated a "power of noise", drowning the voices of reason, he said.
"Jeff Baqwa would have instinctively understood that 10 years into democracy, the contribution of black intellectuals in the social and political discourse and scientific knowledge in our country is limited."
Pityana called for the emergence of an assertive intellectual class.
"It means that South Africa should strive more than we currently do to open up access to higher education for a greater number of all our people and to change the culture and idiom prevalent in many of our universities."
---
This work is licensed under a Creative Commons Attribution-NoDerivatives 4.0 International License.
Please view the republishing articles page for more information.
---