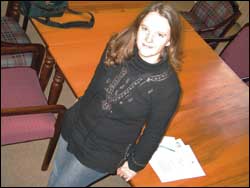 Ground swell: Master's student and Potter Fellow Robyn Rorke.
Master's student (human geography) Robyn Rorke recalls an incident that brings her research into local democracy and civic participation sharply into focus. It's night and a community activist is illegally reconnecting the water supply to a poor home. They can't pay for the service. There's a feeling in this community that the government should be providing free water.
It brings Rorke to the nub of her research: What does democracy mean on a local level? What is legitimate participation in a civil society fraught with unequal divisions? For one group, civic participation may mean burning tyres to demonstrate against poor housing and a lack of potable water. For another, participation may mean tea and biscuits at local meetings with civic representatives through the local ward system.
"It's incredibly important to know what participation means at various levels if you want to foster a civil society engaged in finding solutions to their own lives," Rorke says. "Local democracy in Cape Town is a very conflictual thing. Participation means different things to different people."
As part of her commitment to her funders the David and Elaine Potter Charitable Trust, Rorke recently gathered leading thinkers and participants in the field to a seminar on the subject.
Rorke has always been interested in the differences experienced between the haves and have-nots (she did her honours in social anthropology, looking critically at sustainable development). And she has always been keen on in-depth ethnographic work, "deep hanging out".
"Especially after my travels in Asia."
Sure, the country has enjoyed the benefits of democracy for some 12 years now. But what does it mean to the masses in their everyday lives? "Democracy is about where you brush your teeth and whether you have a sink,' she says. The everyday facets of life.
And when some sectors of the community create barricades of burning tyres to make a point, it's unlikely to be the work of a rumoured Third Force mobilising in poorer areas.
"It's nonsense," she insists. "Poverty is the Third Force. Poverty fosters civil disobedience. People who feel excluded and desperate are often pushed to burn tyres."
There are many sectors of civil society that feel marginalised and excluded from the civic systems available, though mechanisms through which they can lobby for better amenities and services.
But how do people participate in the civic systems available? Reason says this should be through the ward council system which lobbies for change through government.
But if you are disadvantaged or illiterate, those systems often don't work for you, Rorke points out. The court system, for example, is difficult to access, if you have been unfairly evicted and have no knowledge of legal systems or access to representation.
"In many cases, people on the ground feel local participation has failed them. They're either not comfortable within the formalised structures like the ward councillor system or they don't trust it to deliver. And what are their other options when the democratic system meant to protect them fails? "There are significant challenges to institutional forms of democracy and participation in post-apartheid South Africa. And many civic groups are choosing non-institutional forms of local participation."
Rorke's seminar was a valuable forum for leading thinkers, researchers, practitioners and activists in the area of institutionalised participatory democracy in post-apartheid South. They included activists from the Anti-Eviction Campaign, UCT's Associate Professors Sue Parnell and Robert Mattes, Dr Claire Benit (Human Sciences Research Council), councillors like Fadiela de Vries and Batembu Lugulwana, the man in charge of the City of Cape Town's participation initiatives.
Participants were asked to consider whether the ward councillor system encouraged social movement and other "radical" civic participation (erecting barricades of burning tyres as protest) or suppressed it, and whether informality has any place in this system.
They also tackled the question of legitimate local participation.
"This is a particularly important question in South Africa where the local scale was an important place for facilitating grassroots struggle against apartheid," Rorke said. "This space of struggle generated a political consciousness that permeated social and cultural life. But does it continue to do so?"
The group also asked whether local participation fosters an identify of "political citizen" rather than "victim of the system".
"Given that there are different opinions of the legitimacy of the various processes and spaces of democracy, what differing identity politics are played out in the choices citizens make when they choose to get involved inside or outside available institutional processes?"
Most importantly, the seminar defined the landscape of existing and possible research into the meaning of local democracy in post-apartheid South Africa.
(Rorke is supervised by UCT's Dr Sophie Oldfield. Dr Claire Benit of the Human Sciences Research Council and the French Institute of Southern Africa also assisted with the seminar. Rorke's seminar was affiliated to Benit's larger research project on democracy and participation.)
---
This work is licensed under a Creative Commons Attribution-NoDerivatives 4.0 International License.
Please view the republishing articles page for more information.
---