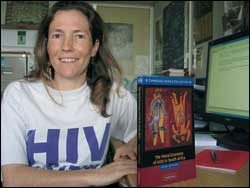 AIDS denialism: Prof Nicoli Nattrass, one of the authors of the opinion piece published in the New York Times Week in Review.
Professor Nicoli Nattrass, director of the Aids and Society Research Unit, back at UCT after a semester at Yale, recently co-authored an opinion piece in the New York Times, Week in Review (June 4), with professor of microbiology and immunology at Cornell University, John Moore.
Nattrass, Moore and other scientists and AIDS activists have worked together to put up a website to fight AIDS denialism. It is called aidstruth.org. "Denialism seems to be on the increase in SA and in the USA - hence our concern," Nattrass said.
(The piece has been abridged.)
HIV causes AIDS. This is not a controversial claim but an established fact, based on more than 20 years of solid science. It is as certain as the descent of humans from apes and the falling of dropped objects to the ground.
So why reiterate the obvious? Because lately, a bizarre theory has gained ground - one that claims that HIV is harmless and that the antiretroviral drugs that curb the growth of the virus cause rather than treat AIDS. Such talk sounds to most of us like quackery, but the theory has emerged as a genuine menace to public health in the United States and, particularly, in South Africa.
The theory, which we call AIDS denialism, has gained such currency with President Thabo Mbeki of South Africa that his administration is reluctant to expand access to antiretroviral drugs. Despite generous allocations from the country's Treasury and substantial assistance from foreign donors, only a quarter of those needing antiretrovirals receive them. The response is poor by the standards of middle-income countries, but it is especially troublesome in South Africa, which has more HIV-positive people than any other country.
American AIDS denialists are partly to blame for South Africa's backsliding AIDS policy. Manto Tshabalala-Msimang, the health minister, has described antoretrovirals as poisons. She is supported in these views by Roberto Giraldo, a New York hospital technologist who says AIDS is caused by deficiencies in the diet, and who served on President Mbeki's advisory panel in 2000. The minister promotes nutritional alternatives like lemons, garlic and olive oil to treat HIV infection. Several prominent South Africans have died of AIDS after opting to change their diets instead of taking antiretrovirals.
Another American AIDS denialist, David Rasnick, a regular letter writer to South African newspapers, absurdly claims that HIV cannot be transmitted between heterosexuals. Mr Rasnick now works for a multinational vitamin company, the Rath Foundation, conducting clinical trials in which AIDS patients are encouraged to take multivitamins instead of antiretrovirals.
In the past, South Africa's Medicines Control Council acted swiftly to curb such abuses, and the Medical Research Council condemned AIDS denialism. But recent high-level political appointments of administration supporters of both bodies have neutered their influence. In South Africa, AIDS denialism now underpins a lucrative nutritional supplements industry that has the tacit, and sometimes active, support of the Mbeki administration...
Until recently, AIDS researchers and activists in the United States tended to regard the denialists with derision, assuming they would fade away. Unfortunately, this has not happened. Harper's Magazine recently published an article by Celia Farber promoting the denialist view. There is a real risk that a new generation of Americans could be persuaded that HIV either doesn't exist or is harmless, that safe sex isn't important and that they don't need to protect their children from this deadly virus. A resurgence of denialism in the United States would have far-reaching effects on the global AIDS pandemic, just as it already has in South Africa.
The AIDS denialists use pseudoscience and non-peer reviewed Internet postings to bolster their false claims about HIV. The real facts about this virus have been uncovered by scientists supported by the National Institutes of Health, the British and South African Medical Research Councils, the Pasteur Institute and many other national research organisations. The public should seek AIDS truth from the latter sources.
---
This work is licensed under a Creative Commons Attribution-NoDerivatives 4.0 International License.
Please view the republishing articles page for more information.
---