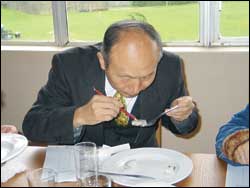 Taste and smell test: Eiichiro Yamada of the Japanese consulate inspects the abalone offered by PhD researcher Deborah Robertson-Andersson.
Abalone may be an endangered resource in South Africa, but the delicate flesh remains highly prized - as the poaching syndicates well know. As part of her PhD thesis, Deborah Robertson-Andersson has been examining the taste of abalone and how their diets affect this.
The taste of the abalone lies in the different types of seaweed that the shellfish feed on. If it feeds on Ulva and Glacilaria exclusively, the abalone tend to develop an "off" taste and sulphur-like smell after the canning process, which makes the abalone quite unpalatable to some.
The flip side is that this abalone grows rather quickly, ready for the market sooner. An abalone that is fed a mixed diet of seaweed unfortunately grows too slowly, yet it has a more appealing taste.
Generally, abalone take five years to mature.
"A chemical compound called DMSP found in seaweed is what causes the change in taste," Robertson-Andersson said. "And when you cook the abalone it changes to DMS, giving it that off smell and taste."
A taste trial was conducted at the UCT Club last Monday. The tasters included the Japanese consul general and several government department heads.
"The consulate enjoyed the tasting and took it very seriously," Robertson-Andersson said.
To balance taste preferences, the event included both tasters from the West and from the East. People from aeastern countries value abalone and treat it as a delicacy. But it's clear that people from different backgrounds appreciate different tastes and smells when it comes to abalone.
What might smell good to some might smell "offish" to others. And to Easterners that was the smell they wanted when eating abalone, otherwise they found the taste too bland.
"You control the smell by controlling the abalone's diet," Robertson-Andersson explained. "We know how fast they grow on the different diets and now we want to know what the market level of taste is, especially if people can differentiate abalone fed on different diets. And we found people did pick up the differences in the taste."
By analysing the data, Robertson-Andersson will be able to find an acceptable level of the compound.
What marketers probably want is a fast-growing shellfish that tastes good to everyone, raw or cooked.
---
This work is licensed under a Creative Commons Attribution-NoDerivatives 4.0 International License.
Please view the republishing articles page for more information.
---