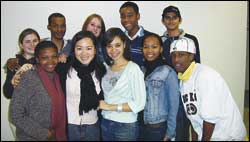 Taking charge: The new RAG executive committee is made up of (from left, back): Lyndall Schreiner, Patrick Tarumbwa, Samantha Barwise, Kudzi Chikumbu and Ranen Thakurdin; and (from left, front) Mantsikoe Moiloa, Debby Fu, Maria Makhabane, Portia Mahlangu and Roy Wachira.
The 2006/2007 executive committee of RAG ("Remember and Give") is off to a flying start. At a handover this past weekend, committee members were officially inducted into their positions. First on their to-do list is a big corporate drive. The focus for the next few months is to bring on board a mix of sponsorship partners who will supply RAG, the fundraising arm of SHAWCO (the Students' Health and Welfare Centres Organisation), with a good portion of the capital required to run its projects, RAG announced. Next year, RAG will continue with its usual projects such as SAX Appeal (typically about 50 000 magazines are sold in one day), Big Bash (which will be a student music festival focusing on top local artists), and the Floats Parade (the event that showcases RAG to the greater Cape Town community). The organisation plans to develop other initiatives - such as the Fashion Show, the Soweto String Quartet performance and Orientation Week - by adding a new spin to these events. RAG will also build on some of its other projects, like Buddy Up, which focuses on safety at RAG events. Applications for general committee positions will open on August 7, and will continue until the last week of August when interviews will take place for the 90 or so positions. RAG is looking for students from all UCT campuses. For further information on RAG and for general committee application forms and information, please contact the RAG office on level 5 of the Steve Biko Student Union, Upper Campus, or at email uctrag@gmail.com and telephone number 650 3525. Information can also be found at the RAG website at www.uctrag.com.
---
This work is licensed under a Creative Commons Attribution-NoDerivatives 4.0 International License.
Please view the republishing articles page for more information.
---