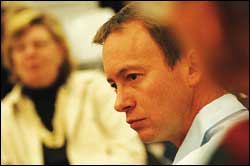 Andrew Brown
Traffic may have been easier on campus during the break, but national and international awards and acclaim came in thick and fast for UCT academics and professional staff. Here we highlight a few.
Law graduate Andrew Brown beat out heavyweights like JM Coetzee and André P Brink - plus two other UCT graduates - to win this year's Sunday Times Fiction Prize. Brown won the award for his second novel, Coldsleep Lullaby, part historical thriller, part modern-day detective story, set in Stellenbosch. The story - there's two, actually, some 300 years apart - was inspired in part by his work as a police reservist, said Brown, a Cape Town advocate. He had to self-publish his first novel, Inyenzi, about the Rwandan genocide, because no publishers were interested. But now that's he's an award-winning writer himself, the ante has been upped for Brown. "I think that just being nominated and short-listed with the likes of Brink and Coetzee was such an honour, that to actually win the award was overwhelming," he says. "But the award does create a pressure that was not there before: I have always written as a sideline only and I never considered myself to be 'a writer'. The award constitutes a wonderful recognition, but with that comes the pressure of public scrutiny and expectation."
Varkey George, director of the Students' Health and Welfare Centres Organisation (SHAWCO), was named as runner-up in South Africa's 2006 Social Entrepreneur of the Year competition. George earned the honour for turning around SHAWCO's financial fortunes, at an all-time low at the end of 2003. He joined SHAWCO - then R1-million in the red - in January 2004, and in quick time launched SHAWCO Enterprises, an initiative to make money for the organisation rather than merely rely on donations. Under this umbrella, SHAWCO ran short academic programmes, started up a transport service with SHAWCO buses during its downtime, and set up partnerships with township businesses, among other things. Thanks to these enterprises, the SHAWCO balance sheet makes for much better reading these days. George received his Social Entrepreneur certificate from Deputy President Phumzile Mlambo-Ngcuka at the opening plenary of the World Economic Forum on Africa in Cape Town in June. The Swiss-based Schwab Foundation runs its Social Entrepreneur of the Year competition in 30 countries.
UCT business science students have gone two for two at L'Oreal Brandstorm, an international competition where university students are asked to design a make-believe product for the L'Oreal brand, as well as a marketing campaign to launch that product. A UCT team won the 2005 South African qualifier for a place in the Paris finals. This year, business-science students Jones Gondo, Faheem Kajee and Kgomotso Tabane repeated that success with three skin-care products (dubbed Finesse) to slot into L'Oreal's Lancôme range. A second UCT team of Julia Chen, Emma Micklem and Amy Morris took runners-up spot, beating out a squad from Wits University. In Paris, UCT finished third in its section - against teams like Israel, Russia and the UK - but didn't qualify for the final presentations. Even so, the entire competition was a memorable experience, says Gondo. "It shows you where your passions, talents and skills lie."
Professor Margaret Hewett, honorary research associate in the Department of Private Law, has earned the Orde van Oranje-Nassau (officier), a civil award for services to the Dutch State. Hewett won the rare honour for her two-volume translation of Jacobus Voorda's (1698 - 1768) Dictata ad Ius Hodiernum (Lectures on the Contemporary Law), a weighty Latin text of major significance to the understanding of Roman Dutch law. Dictata ad Ius Hodiernum comprises the notes, in Latin, of the lectures Voorda gave to his students at the University of Utrecht from 1740 to 1760. The lectures were, and still are, the only analysis of the Roman Law of the Digest as applied in each of the seven provinces of the Netherlands. Hewett's translation now makes the priceless lectures available to law scholars and law historians around the world. She received the Orde van Oranje-Nassau at the conference of the Society of Law Teachers of Southern Africa, hosted by the Faculty of Law earlier this month. (See story on page 5.) "As I am not a Dutch national, I was, and still am, overwhelmed," said the UCT scholar.
Dr Malcolm Keswell, deputy director of the Southern Africa Labour and Development Research Unit (SALDRU), has won the JJI Middleton Award of the Economics Society of South Africa (ESSA) for the best article by a new author. Keswell won the prize for his research into the most accurate way to track inequality. His award-winning report appeared in the South African Journal of Economics, published by the 80-year-old ESSA (www.essa.org.za). The award was created by JJI Middleton, the Scots-born banker who eventually became a senior financial power in the whites-only government of South Africa in the turbulent period from just after World War One to the onset of the Great Depression. Middleton used the award - including donating the die used to cast Keswell's medal - to encourage promising young economists. Past winners of the honour include another deputy-director of SALDRU, Associate Professor Martin Wittenberg. Keswell is currently working on a project that evaluates the impact of South African land reform and the effects of social networks on employment, among many other things.
The pioneering work of ecologist Professor Dave Richardson over the past two decades on the impact of pines and other invasive trees on the biodiversity of the Cape flora has earned him the distinguished Hans Sigrist Prize. Richardson is the first recipient of this Swiss prize to hail from Africa. He received his PhD from UCT in 1989, and worked here between 1991 and 2005, when he helped establish the Leslie Hill Institute for Plant Conservation. His research deals with biological invasions and other conservation issues threatening the Cape Floral Kingdom. In 2005, Richardson joined the Centre for Invasion Biology at Stellenbosch University where he is continuing his research on various aspects of biological invasions. The Hans Sigrist Prize, worth 100 000 Swiss franc (about R550 000), is awarded for excellent work in a sector of science. The prize-giving ceremony will be held in December at the University of Bern in Switzerland.
Lecturer Mary Watson has added her name to the university's list of award-winning writers when she scooped this year's prestigious Caine Prize for African Writing in Oxford recently for her short story, Jungfrau.
The story is of part of a collection, titled Moss, written by Watson as her thesis for the master's programme in creative writing at UCT.
It is about a young girl whose mother worked as a committed teacher in late apartheid South Africa, and explores the family dynamics from the child's perspective. But the narrator is not entirely reliable and this makes for some discrepancies in what she tells and what the story reveals.
The chairman of the judging panel, Nana Wilson-Tagoe, described Jungfrau as "a powerfully written narrative that works skilfully through a child's imagination to suggest a world of insights about familial and social relationships in the new South Africa". Watson is the first South African to have won the £10 000 prize, which is now in its seventh year. The award is named after the late Sir Michael Caine, who was chairman of the Booker Prize for 25 years and who had a deep interest in Africa. In response to her success, Watson says: "I've been quite overwhelmed by the good wishes that keep coming my way." A lecturer at the Centre for Film Studies, she is now working towards completing her first novel.
---
This work is licensed under a Creative Commons Attribution-NoDerivatives 4.0 International License.
Please view the republishing articles page for more information.
---