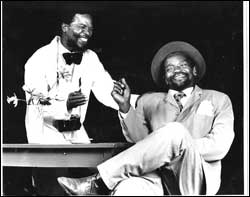 Classic: John Kani and Winston Ntshona in the original play 30 years ago.
The South African theatre classic Sizwe Banzi is Dead, written by Athol Fugard, John Kani and Winston Ntshona, will be brought back to life at the Baxter Theatre Centre from July 11 to August 5.
The original 1975 Tony Award-winning Best Actor duo Kani - who received an honorary doctorate from UCT this week - and Ntshona will again light up the stage after nearly 30 years, when they last performed the play together.
Directed by Aubrey Sekhabi, this production also celebrates 30 years of South African youth, offering theatre enthusiasts and audiences a unique and historical theatre experience.
Sizwe Banzi Is Dead premiered at the Space Theatre in 1972, and during the 70s it was performed in black townships, schools and universities throughout South Africa, reviving theatre among the black communities.
It is a dialogue that highlights the differences between African innocence and experience, between the rural and urban, and between the masks an African was obliged to wear at the time, and the man within.
Although the work is set in apartheid South Africa, its truth and humour remain relevant 12 years into democracy. Although the play called for political change at the time, it also made its audiences aware that new and better political systems ultimately depend upon a change of heart of all those involved.
It's the story of Sizwe Banzi (Winston Ntshona), a rural black worker who leaves his home in King William's Town to seek employment in Port Elizabeth. He is ordered to leave the district because his pass is not in order. With his friend Buntu played by John Kani, he comes across a dead man with a valid pass. Desperate, they steal his pass and forge his photograph. Sizwe assumes the dead man's identity so that he can remain in the city to provide for his wife and four children. Kani says about the play, "It is an indictment of man's inhumanity to man, perpetrated by an authoritarian regime yet crafted through a compassionate, humorous examination of the everyday lives of totally credible people. Although there is no mention of apartheid throughout the play, it is nevertheless a vivid portrayal of what it was like to have been black in South Africa at the time. Audiences will experience life in what is regarded as that dark period in this country's history."
Sizwe Banzi Is Dead was included in a publication of the Best Ten Plays On Broadway and Masterpieces of the Twentieth Century. It was rated 59th on the Royal National Theatre's most significant plays of the twentieth century, equal with Murder In the Cathedral by TS Eliot.
While dealing with true tragedy, with all its universal implications, it is nevertheless ennobling and joyful. The New York Times hailed it as "a joyous hymn to human nature" and the New York Post called it "hypnotic–. overwhelming compassion–. powerful".
For low-price block, schools or corporate bookings, fundraisers, charities, and dinner and show packages at the Baxter Theatre Centre only, contact Sharon on (021) 680 3962 or book at Computicket.
---
This work is licensed under a Creative Commons Attribution-NoDerivatives 4.0 International License.
Please view the republishing articles page for more information.
---