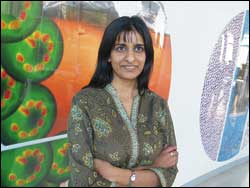 PhD graduate Nirvana Pillay, who has researched the early onset of Alzheimer's disease.
Big strides are being made in understanding the etiology of Alzheimer's Disease (AD) - and with this comes hope in the near future for those suffering from this disease.
Alzheimer's remains one of the more complex neurodegenerative diseases and is a common cause of dementia. Head injury is a known risk of AD and studies have shown that beta- amyloid protein is present following trauma. AD is caused primarily by an abnormal accumulation of the beta- amyloid protein in the brain. In AD, memory processes are affected. The initial phase of AD affects long-term memory (autobiographical memory).
"It's a very complex disease that is slowly being unravelled on a molecular basis," says postdoctoral research fellow Nirvana Pillay, who will graduate with her PhD this week, under the supervision of Professor Girish Kotwal, Division of Medical Virology, and Dr Laurie Kellaway, Division of Neuroscience.
As the population ages the incidence of Alzheimer's also rises, increasing the socio economic burden of caring for patients. Ironically, the incidence of Alzheimer's is greater in the First World where people tend to live longer. It is however, beginning to affect the black population. There are genetic risks attached, as well as risk factors like high cholesterol and traumatic head injuries.
In a paper published in Current Alzheimer's Research, (2004, I, 295-306), co-authored by Pillay, Kotwal and Kellaway, the authors explore a potential therapeutic agent, vaccinia virus complement control protein (VCP), that was first identified by Kotwal.
Invitro studies have shown that VCP has been able to block the complement activation caused by the beta peptide.
Using an in vivo model that corresponds to an early-onset of Alzheimer's disease, Pillay has shown that VCP improves episodic memory. "The improvement in episodic memory was found to be significant."
During her PhD, Pillay was accepted to attend the International Brain Research Organisation (IBRO) neuroscience school in Kenya. Subsequently, she has been invited to the Swiss Federal Institute of Technology in Zurich for training in neuro-behavioural testing. Her co-supervisor also spent 2005 in Zurich at the Institute of Neuroinformatics, where he offered long-distance support and supervision.
She is currently a postdoctoral research fellow under the mentorship of Professor Dan Stein, head of psychiatry, and she is involved in the transcranial magnetic stimulation project for the Brain Behaviour Initiative. Pillay will also participate as a junior instructor in the upcoming IBRO neuroscience school in Cape Town.
---
This work is licensed under a Creative Commons Attribution-NoDerivatives 4.0 International License.
Please view the republishing articles page for more information.
---