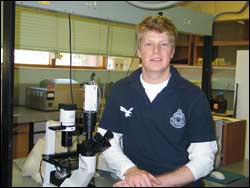 Sought after: Nick Bredenkamp received three prestigious scholarship offers to study abroad.
Nick Bredenkamp, a top student in the department of molecular and cell biology, has achieved a singular honour: three highly sought-after international scholarships to complete his PhD overseas in September this year.
He was awarded the Fulbright Student Programme for study in the US, the Commonwealth Scholarship for study in the UK, and the Darwin Trust Postgraduate Studentship for study in the School of Biological Sciences at the University of Edinburgh in the UK.
Bredenkamp was the top honours student in the department in 2003 and recently completed his master's in molecular and cell biology, which he obtained with distinction. His main focus of research has been a gene involved in forebrain development. Primates, and especially humans, have an expanded forebrain compared to other animals, resulting in a superior intelligence. They investigated whether this gene may play a role in controlling forebrain size in mammals, as well as examining the factors that controlled when the gene was working and when it wasn't. Although Bredenkamp's PhD will not continue in this line of research, it will be in the similar field of stem cell biology.
"My undergrad marks were good and that is one of the first factors the recruiting universities take into account," Bredenkamp explained. "I have a good relationship with my supervisor and the other academics who wrote my referees' reports."
The final choice has been tough. But in March this year he was interviewed at Edinburgh University and it was a good match. The university has one of the most influential stem cell research institutions in the UK. And Bredenkamp liked the degree programme they offered.
The programme will keep him in the UK for the next three years, but he plans to return to South Africa to join a stem cell research laboratory here - or set up his own lab because there are none in South Africa as yet.
---
This work is licensed under a Creative Commons Attribution-NoDerivatives 4.0 International License.
Please view the republishing articles page for more information.
---