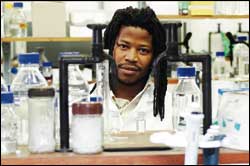 All heart: Siyanda Makaula has added another piece to the puzzle that links diabetes to heart disease.
Siyanda Makaula got the perfect confidence-booster just before he wrapped up his doctoral thesis with the Hatter Institute, UCT's premier cardiovascular research laboratory, at the end of 2005.
His presentation on his research earned him first prize and a purse of R5 000 at the AstraZeneca Medical Research Day in October, hosted by the pharmaceutical company. (Researchers from UCT, the Medical Research Council [MRC], the University of Stellenbosch and the University of the Western Cape vied for honours.)
Makaula's winning talk was around his interest in the high-impact link between diabetes and heart disease - it's estimated that up to two out of three diabetics die of heart disease or stroke.
In his doctoral work, Makaula shed some valuable light on the workings of a metabolic gene known as acetyl-CoA carboxylase beta (ACCβ). ACCβ controls how much fatty acids are taken up by the mitochondria, the organelle that converts fats to energy. On any given day, the ACCβ controls the mitochondria by curbing its capacity to absorb fatty acids, which means the mitochondria produce less energy.
But what happens when the body needs a huge dollop of energy, like, say, during strenuous exercise? This is where, Makaula showed, a mechanism known as the nuclear respiratory factor 1 (NRF1) kicks in. The NRF1 revs up the mitochondria's capacity to produce energy switching off the ACCβ gene.
"It inhibits the inhibitor," explains Makaula.
That finding has generated a couple of journal articles for Makaula and collaborators.
"His discovery of a novel inhibitor may have potential therapeutic benefits especially for patients diagnosed with diabetes-related heart diseases," says supervisor Dr Faadiel Essop.
Makaula would be glad to hear that. "I wanted to contribute to medical research," he says, "to do something that's going to benefit or even improve our scientific knowledge of disease."
Makaula is now based in the Department of Physiology at the University of the Witwatersrand, but returns to UCT this week to graduate.
(Makaula thanks Prof Lionel Opie, and Dr Faadiel Essop for his outstanding mentoring and excellent supervision.)
---
This work is licensed under a Creative Commons Attribution-NoDerivatives 4.0 International License.
Please view the republishing articles page for more information.
---